"Take only pictures, leave only footprints", is the saying and nowhere else should it be adhered to more than the Appalachian Trail. It's a continuous footpath traversing the Appalachian Mountains from Maine to Georgia. Over 2,000 miles long, the trail is the brainchild of Benton MacKay who came up with the concept in the early 1920's. Though the trail has been re-routed, changed, and adapted to meet changes the modern world has brought, it has remained a continuous 2,000-mile path since 1936 when the final pieces of the trail were connected once and for all.
In Connecticut the trail goes from Kent to Salisbury and along the way passes through picturesque towns such as Cornwall, Falls Village, and Lime Rock. The mountains are called the Litchfield Hills and they are foothills of the Berkshire Mountains. Although the CT portion of the AT trail is shortÂ?51 milesÂ?the variety of trail and scenery is as exciting and refreshing as any along the entire AT trail. The great thing about Connecticut's A.T. section are the dozens of day hikes that are easily accessed. A hiker passing through CT will enjoy short but challenging climbs with spectacular views. Serene river walks, open farmland, and dense woodlands seem to appear around every corner. Mix this in with postcard scenes of classic New England, and you have the ingredients for a memorable trail experience.
If you drew a 100-mile radius from any point on the CT portion of the trail, the population would approach 20 million people. Hiking along the trail, you'd never know it. Stand on any mountaintop and you'll see nothing but rolling hills covered in trees, with just a smattering of farmland and houses.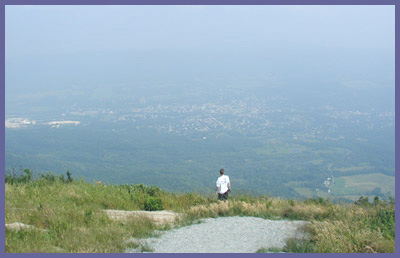 The Massachusetts section begins at Sages Ravine with it's dramatic cascading waters. It passes by Race Brook Falls, over Mt. Everett, into Jug End, through some picturesque New England towns and hardwood forests of west central Massachusetts, over Mount Greylock (the state's largest peak), and into Vermont. The Berkshire Mountains are physically more impressive than the Litchfield Hills and thus the climbing a little more challenging.

Many think the Connecticut section is a little more picturesque with rolling hills, small towns, open field, river walks, and short climbs to nice vistas, whereas Massachusetts is a little more rugged, remote, rocky, swampy in some small areas, with views that are a lot more dramatic and harder to attain the in Connecticut. But all those things can be said about both states and there's only one way for you to find out for yourself... Get out there, away from it all, open your eyes, and refresh your soul!

Many of the hikes listed on berkshirehiking.com are sections of the A.T. or side trails that lead into and out of the A.T. Here are a few suggested starting points for exploring the Appalachian Trail in Connecticut and Massachusetts. The list begins with Bull's Bridge in Kent, CT and goes north until Mt. Greylock in Massachusetts.

Click here if you're interested in getting a guided hike in this region.

Connecticut
Bulls Bridge | Schagticoke Road | Caleb's Peak | St. John's Cliffs

River Walk | Breadloaf Mountain | Pine Knob Loop | Falls Village

Prospect Mountain | Rand's View | Lion's Head

Undermountain Trail | Bear Mountain Connecticut's highest peak




Massachusetts


Sages Ravine | Race Brook Falls | Mount Everett State Reservation

Jug End | Beartown State Forest | October Mountain State Forest

Mount Greylock State Reservation | Clarksburg State Forest


Appalachian Trail links:
Appalachian Mountain Club

CT Chapter of the AMC | Berkshire AMC | Worcester, MA Chapter of the AMC

New York-New Jersey Chapter of the AMC

http://www.appalachiantrail.org


Appalachian Trail - Maine section

Appalachian Trail - New Hampshire section

Appalachian Trail - Vermont section

Appalachian Trail - Massachusetts section

Appalachian Trail - Connecticut's section

Appalachian Trail - New York section

Appalachian Trail - New Jersey section

Appalachian Trail - Pennsylvania section

Appalachian Trail - Maryland section

Appalachian Trail - West Virginia section

Appalachian Trail - Virginia section

Appalachian Trail - Tennessee section

Appalachian Trail - North Carolina section

Appalachian Trail - Georgia section



A.T. Store - maps |

If you have any trail updates to share or have feedback/questions please click here to send email.