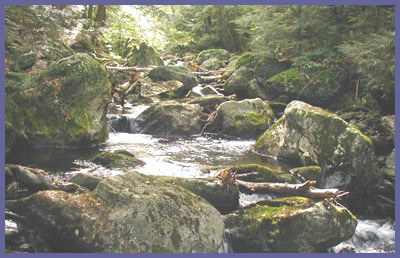 Sages Ravine tumbles down a beautiful section of forest and rock along the extreme western tip of Connecticut and Massachusetts' borderline. When there has been a lot of rain or snow melt, the series of falls and cascades are breathtaking. Even during times of drought a quiet, peaceful world can be found. Dark forest and steep hills nearly cover the ravine and the splicing of sunlight through the trees only adds to the drama. Though not the Grand Canyon by any stretch of the imagination, Sages Ravine is truly unique around these parts and a must-see spot for all hikers. And if you happen to be there on a day when there aren't other visitors, you'll feel a lot more remote than you actually are.

The Appalachian Trail runs alongside the ravine and this section of trail is popular and well known to most seasoned hikers. Like other spots in this particular region (Bear Mountain, Mt. Alander, Sages Ravine, Mt. Brace) there are numerous ways to access Sages Ravine but I'll highlight two different paths...moderate and strenuous. I'd suggest that 90% of the people should choose the moderate route. But those who are in great shape or looking for challenging hikes would enjoy the strenuous route.

If you want strenuous, start at Undermountain Trail. Follow Undermountain to Paradise Lane Trail and then hop on the Appalachian Trail down to Sages Ravine. On your way back to the ravine (or your way there), incorporate Bear Mountain into the hike. Bear Mt. is Connecticut's highest peak and the views are fantastic (Bear Mt. is the highest peak but the highest point in Connecticut is on the side of nearby Mt. Frissell, whose peak lies in Massachusetts).

The moderate hike requires a drive all the way to the top of Mt. Washington Reservation and eventually along a rugged dirt road to the trail head. Round trip, it could add 30-40 minutes extra driving time than Undermountain Trail but it's a lot easier to hike. Accessing Sages Ravine this way allows you to hike down to the ravine in about 20-30 minutes depending upon your pace and then back up to your car. The hike back to the car will be strenuous for some but should be manageable for most...just take your time if you get winded. From the parking area (driving directions to trail head are below) you hike in along a trail maintained by the Appalachian Mountain Club. This section of trail is real nice and gets you in the mood for the ravine. The hardwoods and lush undergrowth create a serene world and the path is flat which allows you to loosen up before you descend to the ravine. About 10-15 minutes into the hike you meet up with the Appalachian Trail. A small wooden plank (footbridge) marks the spot (some folks may walk right passed the Appalachian Trail without realizing it). Take a left (north) onto the Appalachian Trail (The A.T. can be noted by the white hash marks painted on trees, rocks, and stumps). If you were to go right, you'd go up to Bear Mt via the Appalachian Trail. But going down the trail towards the ravine is where you'll want to go. A short distance later you'll come upon another trail intersection. Paradise Lane Trail joins the Appalachian Trail. It goes to the right and eventually meets up with Undermountain Trail. But again, you'll stay left and continue down. Be careful as you hike down into the ravine. The trail is rugged and steep at times. The trail is covered with rocks and tree roots/stumps. It can be a little hazardous...especially when it's wet from rain, ice, or snow. You could twist an ankle or slip if you didn't have proper hiking boots or you weren't used to this type of hiking. But if you take it slow and pay attention to trail you won't have anything to worry about...hard to do as the scenery becomes more enticing!

At the top of Sages Ravine is a first come, first served campsite if you are at all interested in backpacking in. This is a great spot to overnight and hike to nearby spots (Mt. Frissell, Brace Mt, Bear Mt., Race Mountain, Race Brook Falls, Mt. Everett, Jug End). I asked a hiker about the campsite and he said that a black bear as recently become "people friendly" and will scavenge garbage or food that isn't properly concealed. (Fortunately for him, he had cool dog who also had his very own backpack and didn't particularly like bears!) From the top of the ravine to the bottom is a couple hundred feet. The ravine tumbles through this region and the trail follows right alongside the cascading waters, streams, pools, etc., and offers endless spots to check out and enjoy. Huge rock formations have been carved out and offer unique vantage points. Since I'm suggesting you hike here, I'll also make sure to warn you about this section. There's something about the ravine that is enticing. It just invites you to play in and around it...and that's especially true if you intend to bring children. Most people want to get as close as possible and maybe jump around on rocks as water rushes by and tumbles down. Some no doubt will dive into the whirlpools during the summer months. This could be dangerous if you let your guard down. A large jumble of massive rocks and rushing water can be deceptively powerful so please use good judgment here.

When you reach the bottom of the ravine and you know the hike back up with be a piece of cake, consider hiking on to Laurel Ridge campsite (formerly Bear Rock Falls) or even Mt. Race for some spectacular views of the eastern valley. (There's a trail sign at the bottom that gives distance in miles so you can gauge round trip mileage.) But if you already feel like you've been worked out it's best to make your way back to the car. The hike over to Laurel Ridge is mostly flat, very peaceful and serene due to the large hardwoods and pines that tower over you. When you reach the Laurel Ridge area the campsite is on the left and over on the right is a rock ledge with an amazing view and a small waterfall that you can hear but can't see due to the fact that the water falls off the cliff and into the forest below. Like a dad who annoyingly reminds you to check your oil, etc., or a mom making sure you're dressed for the weather, I would like to point out two things about Laurel Ridge. One, they are trying to restore the forest in certain areas so please respect their wishes and stay out of areas that are marked as off limits for now. The people who have worked to preserve this part of the state and the trails know what they are doing and why. They deserve our help. They don't ask for much and the requests are reasonable. The only way to keep it like it is for generations to come is to be a part of the preservation effort. So please respect all signs posted in the area. Two, the rock ledge is a beautiful spot but potentially dangerous. There is plenty of room to sit, relax and take it all in. You couldn't ask for a cooler spot to chill out. There's also a sheer drop off that could be fatal if you ventured to close to the edge...if you survived a fall here you can cancel any plans you've made over the next few months because you'll be in physical therapy recovering from massive injuries. The tiny waterfall that can't be seen but heard might be too tempting for some. Trying to creep up to see the water fall into the forest below or a "what's the big deal" attitude is how people get their names in the paper for all the wrong reasons. I don't mean lecture or come across as the "trail police". As someone who encourages you get out and enjoy nature, I also worry that you'll get hurt doing something I suggested. Because we live in a region that doesn't have massive cliffs or thousand-foot drop offs that would terrify any sane person, some people get lulled into a falls sense of security while bouncing around the hills of southern New England. This is one of those spots that should get your attention. So just sit back, relax, and enjoy one of the best spots around! And who knows, if you sit still like I did, a bird I've never seen in my life might come flying right up to you and sit on a branch a couple feet away...as if to say "pretty cool spot...huh dude?". It must have been migrating south (September) and it literally did an about face in mid-flight when it saw me. Swooped in on a branch hanging over the cliff and then bounced along a series of branches until it was ten feet away. Looked at me. Looked out over the valley. Looked at me again and stayed there for about a minute. When I lifted my camera to film, off he/she went.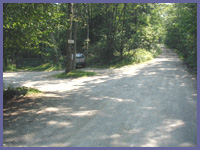 Directions: Get on Route 41 in Sheffield, MA (41 heads north out of Salisbury, CT and south out of Egremont, MA.). Just south of Egremont, MA., Mt. Washington Road is off of Route 41 (left side of road if you're heading north, right side if you're southbound). Take Mt. Washington Road all the way up the mountain and it will eventually flatten out. Eventually you'll pass Mt. Everett State Reservation on your left and then a short distance later Mt. Washington State Reservation on your right. (As you proceed through here you'll come upon an intersection with a white church and you just want to continue straight...DO NOT follow the sign to Bash Bish Falls towards Copake, NY.). Mt. Washington Road becomes East Street. East Street passes by homes and wooded area and becomes a dirt road. Follow this road to the Connecticut/Massachusetts border. About 100 feet after the road sign and border marker is a large dirt lot with a big AMC sign. This is the lot to hike Sages Ravine, Bear Mt., the Appalachian Trail and other great hikes.

Printable version of the Sages Ravine page