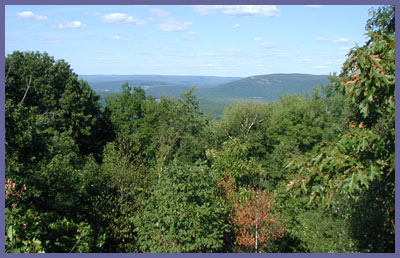 Prospect Mountain in Falls Village, CT. presents a challenging little hike that can give you an unexpected workout. But the effort is well worth it, as there is a nice view of the eastern valley and a good spot to sit back and take it all in. As you make your way up Prospect you'll go through some quiet forest sections with an open field scene to break up the woodland portion. If you've got the energy to keep going beyond Prospect Mountain, Rand's View is another mile up the trail and offers even more spectular views. During the fall foliage season the ride to Falls Village and hike to Prospect Mountain is a great choice.

When you begin your hike you'll start at Falls Village. Just as we mentioned in the Rand's View hike, you have two different starting points to choose from...depending upon how far you want to hike. Both options follow the Appalachian Trial. One option is to park back at the hydroelectric power station when you first pull into the old Iron Works area. From here you can follow the Appalachian Trail (the A.T. actually follows the paved road for about a half mile through this section) as it passes the hydroelectric station, crosses over the old iron bridge, and then up along the banks of the Housatonic River and waterfall region. Near the top of the waterfall, the Appalachian Trail turns left and heads into the woods and eventually to Rand's View. The other option is to start near the top of the waterfall and head directly into the woods.

When you enter into the woods, the waterfall region quickly fades away as you head up and down a small hill. Soon you'll come upon a nice open field section that is teeming with life during the summer months. Wild flowers, tall grasses, berry bushes, birds, and insects of all types are in full force. Take a moment to enjoy this quiet scene before you proceed on into the woods again (and don't forget to take a look back just before entering the woods, as there is a wonderful view south from here).

When you enter the forest again, the terrain changes considerably. There's a dense cover of trees, and the pathway takes on a more rocky characteristic. It rises in a subtle manner and keeps rising until you reach the top of Prospect Mountain. The hike up to Prospect is more challenging than a lot of people might think. The terrain remains consistent and the incline never really gets too steep...but it just keeps going so a good workout will be had. After awhile you realize that you've been climbing steadily. Along the way notice how quiet it can get in certain sections. Falls Village is a fairly remote town by Connecticut standards, and the trail takes you even further away to a region that seems far removed from any type of influence from people. The only company you'll likely encounter is the occassional hiker. (Who knows...you might run into Smilin' Mike, Opie, Hikes For Views or Rembrandt...several of the A.T. hikers I've met on Connecticut trails who have hiked the entire 2,000+ mile trail!) The squirrels and chipmunks will also keep you company as you hike through the woodland section; most will scatter in a loud raucous manner as you approach...acting as if you're the first human being they've ever seen. But it's just a good way to warn the neighbors of potential danger approaching!
When you reach the peak of Prospect Mountain, you'll be glad the trek is over. Though not grand or spectacular, the views are really nice and the smooth rocky surface makes for a great viewing platform. You can relax for awhile, have a snack, and rest before heading back down. If you're feeling okay, Rand's View is an option from here. It would add about two miles roundtrip but the terrain is flat for the most part and rewards you with a spectacular view of open space and rolling mountains. Some say if you're going to hike Prospect Mountain for the views then you have to head over to Rand's View as you're likely to be more impressed there. But gauge how you are feeling and if you're tired or not really motivated, you can come back another day and tackle Rand's View by accessing the Appalachian Trail off Route 44 in Salisbury, CT.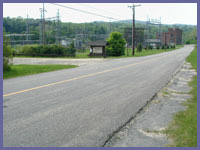 Directions:

Get on Route 7 and head towards Falls Village (northwestern region of Connecticut). At the intersection of Route 7 and Route 126 in Falls Village, go west on Rt. 126 following the signs for Falls Village. A short distance later you'll come upon the center of town. An old railroad car diner will be easily seen. Just to the right of the diner take the small road (Water St.) as it dips down under the railroad bridge. A few hundred yards later the hydro-electric power station will be clearly visible on your left. A nice parking area greets you with a decent information board. This is also where you can park for the wheel-chair friendly trail loop that the local community built for those who have limited access to hiking trails. To get to the waterfall section go past the power station and over the old iron bridge (one-lane road over the bridge. If another car is already on the other side when you get to the bridge, give them the right of way). Just over the bridge take the first right (Housatonic River Rd.) Don't go straight onto Falls Mountain Rd. A short distance later you'll see a "scenic overview" sign. You can park here and walk a few feet up to the Appalachian Trail markers or park up at the very top in the gated parking lot which closes at sunset. If you happen to be hiking with small children don't let them run up ahead to the waterfalls alone. There are no barriers and the water can rush through here with a lot of power.

Printable version of the Prospect Mountain page



If you have any trail updates to share or have feedback/questions please click here to send email or call 203.788.7665