Rand's View located in Falls Village, CT. is a great spot to take in a fantastic panoramic view of the northern Berkshire Mountains. Situated along the Appalachian Trail, Rand's View is well known to those who hike the entire Appalachian Trail. It's perhaps the jewel of Connecticut as far as Appalachian Trail hikers are concerned. Along Connecticut's portion of the trail, many hikers tell other hikers about Rand's View to give them a highlight to look forward to. It's a quiet place with a majestic view that looks out over open fields and up towards the Berkshire Mountains. It's beautiful and would surely inspire artists of all types. At Rand's View you can sit back, relax, and take in the scene forever. Nestled in a spot where farmland/open fields sit within dense woodlands, things spread out in front of you and on a crystal clear day you can see very far away. The mountains just seem to keep rolling on. It's unusual in this part of New England to see so far with so little evidence of humankind. A person sitting in this spot 200 years ago would have had the same view. A bonus to Rand's View is that it's located in a remote area (remote in the Connecticut sense, not the Alaskan!). You really get the feeling that you've hiked in a good distance and come upon a special place. I was going to post a panoramic photo but I think I should just let you enjoy it for yourselves without any impressions in your mind...a picture just wouldn't do it justice.
You can access Rand's View from Fall's Village or from Route 44 trail head in Salisbury. We're recommending the Fall's Village option, as it incorporates the waterfall at Falls Village and Prospect Mountain with its easterly views.
When you begin your hike at Falls Village, you have two different starting points to choose from...depending upon how far you want to hike. Both options follow the Appalachian Trial to Prospect Mountain and Rand's View. One option is to park back at the hydroelectric power station when you first pull into the old Iron Works area. From here you can follow the Appalachian Trail which actually follows the road for about a half mile as it passes the hydroelectric station, crosses over the old iron bridge, and then up along the banks of the Housatonic River and waterfall region. Near the top of the waterfall, the Appalachian Trail turns left and heads into the woods and eventually to Rand's View. The other option is to start near the top of the waterfall and head directly into the woods.
Once you enter the woods, the noise of the waterfall and any people enjoying this region quickly fades as a dense cover of forest takes over. Soon you'll enter a nice open field section that has a great southern view near its top. Turn around before entering into the forest again...a nice view to hold you over! The trail quickly rises and enters into some thick woodlands. For the next mile and a half, the hike isn't steep but continually rises all the way to Prospect Mountain. It's a deceptive hike, so bring plenty of water and food so you can rest and fuel up on top of Prospect Mountain. There's a nice view east from Prospect Mountain; but you don't want to stop there as Rand's View is even more impressive. From Prospect Mountain, it's another mile or so to Rand's View. About a half mile past Prospect, there's a campground for overnight hikers. Don't take the left to the campground. Go right to Rand's View. There's a sign that tells you it's 500 feet down the trail, but some folks could easily get a little confused. When you arrive at Rand's View, you emerge from dark forest cover to a bright wide open field with beautiful mountains rolling on and on. It's a great sight and really encouraging that places like this still exist in Connecticut. If you need a good workout with some peace and tranquility tossed in, Rand's View should be on your list of things to do!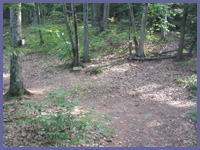 Directions:

(You can also choose to hike to Rand's View from the Appalachian Trail off of Route 44 just few miles north of the center of Salisbury.) But since we're recommending the Falls Village route here are the directions to Falls Village. Get on Route 7 and head towards Falls Village (northwestern region of Connecticut). At the intersection of Route 7 and Route 126 in Falls Village, go west on Rt. 126 following the signs for Falls Village. A short distance later you'll come upon the center of town. An old railroad car diner will be easily seen. The next left after diner take the small road (Water St.) as it dips down under the railroad bridge. A few hundred yards later the hydro-electric power station will be clearly visible on your left. A nice parking area greets you with a decent information board. This is also where you can park for the wheel-chair friendly trail loop that the local community built for those who have limited access to hiking trails. To get to the waterfall section go past the power station and over the old iron bridge (one-lane road over the bridge. If another car is already on the other side when you get to the bridge, give them the right of way). Just over the bridge take the first right (Housatonic River Rd.) Don't go straight onto Falls Mountain Rd. A short distance later you'll see a "scenic overview" sign. You can park here and walk a few feet up to the Appalachian Trail markers or park up at the very top in the gated parking lot which closes at sunset. If you happen to be hiking with small children don't let them run up ahead to the waterfalls alone. There are no barriers and the water can rush through here with a lot of power.

There is another option for hiking up to Rand's View. It's shorter but wouldn't take in the Prospect Mountain views nor some of the open field views that you can get by hiking in via Falls Village waterfall area. Although, with this alternative route, you could always hike over to Prospect Mountain without too much trouble before or after viewing Rand's View. For this third option, you'd take the right hand turn onto Housatonic River Road just after the iron bridge, just as you would for parking at waterfall. But instead of going up to the falls parking lot, take the first left off of Housatonic River Road. Sugar Hill Road will go for about a 1/2 mile and then end. In between the last two houses on the left is a small parking area...could only handle 4 or 5 cars at the most. It looks as though you might be parking on private property but it's okay to park in the small parking lot. DO NOT park in the actual driveways that belong to the homes. Then you hike down the dirt road into the woods and in a short distance you'll see the blue hash marks and a sign that says "Foot trail". The hike to Rand's View from here is probably 2 miles round trip. This trail leads to Rand's View via the Appalachian Trail campground. It's a fairly flat trail until you get to the campground area. Then a very steep, but short, section of trail passes along the cascading waters that tumble down off the gigantic rock formations. It can be slippery because of the rocks and fallen leaves, with some steep drop offs, but nothing to worry about as long as you watch your step. It's actually a beautiful section of trail. Keep following the trail as it follows the stream and flattens out again. (Some may get confused and lose track of the trail but just keep looking for the blue hash marks and if you somehow become totally disoriented, just follow along the stream and the trail will come back to you because the trail follows nearby the stream nearly the whole way.) Soon you'll come upon the Appalachian Trail. Take a left and Rand's View is about a minute down the trail. Or head over to Prospect Mountain first to take in some nice views then go down to Rand's View. It's a half of a mile to Prospect, so that adds a mile to your hike up and back.
Printable version of the Rand's View page



If you have any trail updates to share or have feedback/questions please click here to send email or call 203.788.7665