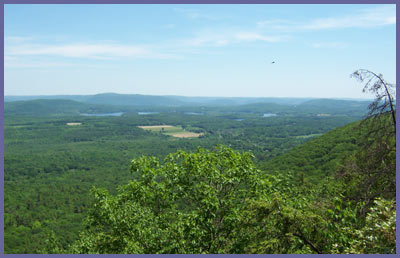 The only way to stand atop Mount Race and take in its sweeping views, is to hike long and hard from somewhere...as there are no easy routes to Mount Race. No matter where you start, you'll have to take on some of the steepest parts of the Appalachian Trail (A.T.) in the northwestern Connecticut and southwestern Massachusetts region. But if you're in reasonably good hiking shape and not in a hurry, you can create a wonderful all day hike that will reward you many times over.
Besides being beyond many day hikers ability, Mount Race is overshadowed by many of it's neighbors and therefore a lot of folks who have hiked in this region have never been there. Race Brook Falls, Mt. Everett, Bear Mt. (CT's highest peak), Sages Ravine, Mt. Frissell (CT's highest point), Mt. Washington, Jug End are some of the more well known and frequented nearby spots. Mount Race can only be accessed by passing by some of those hikes so it's not suprising that many hikers utter, "uh, I've had enough...I'll try for Race another day".
At 2,365 feet and nestled deep within a forest ridgeline - presenting just the sort of thing that intrigues day hikers - it should have been a place notched a long time ago. But given the effort to get there it's understanbable how "never been there" happens. Thunderstorms, not yet in good hiking shape, and a short winter day, are legitimate reasons from taking the journey to Mount Race. The suggestion here isn't that is a beast of a hike or extremely hard but for most hikes listed on this site it's a challenge. But it's well worth the effort to get there. The views are stunning and there is a short section of trail that is scary...but a good scary! The kind of spot that makes you go "This is why I hike!". There's a sheer drop-off of hundreds of feet spreading out into a massive valley scene below. The drop-off in some sections couldn't be more than 15 feet from the Appalachian Tail you'll be hiking on. It feels more like 2 or 3 feet from the drop-off, but it's not. If you just calm down, relax, and hike with caution you'll see there is plenty of trail and flat ground to keep you tumbling down even if you lost your balance and fell. And a smile wide should spread out all over your face or perhaps you'll just stand in awe. If you're hiking in a south to north direction as we were, it comes upon you suddenly after a long forest hike so it really sends a jolt of adrenaline through you. The instinct is to grab the nearest tree limb, sit down, or yell out something cool... or unprintable here. It's not El Capitan, but it is an impressive drop off and it's the only stretch along southern New England's Appalachian Trail that has this type of scene. You gotta check it out if you haven't been.
Parking one car way up high at the dirt parking lot for Sages Ravine and another car all the way down at the base of Race Brook Falls off Route 41 in Sheffield, Massachusetts is an option if with small group. That would be a hearty hike about 7 miles; 70% of it was flat or down hill hiking with a not so bad of a stretch to hike up to Mount Race. It's a long day of hiking, but plenty of rewards to keep you energized. You'd pass through the tumbling waters of Sages Ravine (click here for the Sages Ravine page), across a quiet mountain ridge to Bear Rock Falls and its valley views, up to the sweeping vistas and sheer drop off of Mount Race plateau, and down picturesque Race Brook Falls (click here for Race Brook Falls page). It Mid-June thru early July will bring Mountain Laurel extravaganza. The green months seem boundless with wildflowers, ferns, bushes, blueberries just budding, and hardwoods tall and miniature, filled in a scene Monet would certainly have appreciated. If you have the ability to bring two cars it's highly recommended the option we took - Sages Ravine to Race Brook Falls. It's a great hike! It's not easy...but if you take your time, rest and listen to your body when it's telling you to rest, and bring at least 2 liters of water and a big lunch with healthy snacks, you'll be just fine. You can easily follow the Appalachian Trail from Sages Ravine to Mount Race then side trail of Race Brook Falls. It could be 4-6 hours of time for you, depending upon your pace and conditioning. There are Appalachian Trail campsites off of Sages Ravine and Bear Rock Falls (now called Laurel Hill) if you wanted to do an overnight backpack. Campsites are first come, first served (you cannot reserve a campsite as it's open to everyone who hikes in). If you join the Appalachian Mountain Club, you can reserve a fantastic cabin near the beginning of this hike. It's for members only and it's the nicest one in Connecticut I have seen. (Follow posted instructions for keeping food sources/scraps safe from black bears snooping around at night).
Here are several ways to get to Mount Race.
Park one car in the Race Brook Falls parking lot which off Route 41 in Sheffield, Massachusetts. Then drive up Mount Washington Road which is just a few hundred feet south of the intersection where Route 41 and Route 23 meet in South Egremont, Massachusetts. Head up Mount Washington Road for 8 miles to Mount Washington State Forest (somewhere along the way Mount Washington Road becomes East Street so don't be confused if you suddenly see East Street signs). Eventually an intersection with an old white church on your left presents itself and you go straight through the intersection. A short distance later is Mount Washington entrance on your right (Note: Alander Mountain Trail is an amazing hike to come back to some other day at Mount Washington parking lot). Go passed the state forest and keep on the same road. Soon it will turn into a dirt road (VERY bumpy and and extremely muddy early spring and maybe impassible in winter the further in you go) and few miles later the last remaining homes will end as you enter into protected forest of Mount Riga/Mount Washington forest. After the last house, it's a short drive up the dirt road and you'll notice 2 dirt parking lots on your left. The first one has a tiny "no parking" sign on a tree (that's actually a picture with tow truck pulling a car). I can't imagine they would actually tow anyone but I can't ignore the sign and tell you it's okay to park there. (The Connecticut/Massachusetts state border post is just before this lot but it's hard to see.) The next big parking area on the left is where you want to park and is also the trail head for this hike. (Find other parking if the lot is full but be sure to pull way off the road as in Connecticut this is road is monitored often.) NOTE: During winter this part of the dirt road beyond the homes, and in particular the CT/MA border, could be impassable or even closed by the state. The Connecticut section is definitely closed in winter to vehicles but the parking area for this hike even in winter should be open no problem.
A trail head heading east into the forest is obvious from the parking lot. It's an old utility road called Northwest Road (no signs I'm aware of that tell you the name of this trail). Most people call this the "Sages Ravine entrance" because Sages Ravine is short 20 minute hike from the parking lot. There's an easy flat section of trail to get you warmed up for the rest of the hike. About a half mile, maybe a little more, from the parking lot the trail meets up with the Appalachian Trail. It would NOT be hard to walk right over the Appalachian Trail and into the woods, as it's a very subtle thing here where an old path, no longer used, gives you the impression that you should keep hiking straight. The fact there are no signs (or painted arrows) telling you it's the A.T. doesn't help either. But unless you're seriously daydreaming or talking a mile a minute and not paying attention you should see the A.T. crossing in a left/right (north/south) direction. There are some wooden planks down on the trail you can use for reference. Go left and follow the WHITE hash marks of the A.T. down to Sages Ravine (about 20 minutes from the car). [You could go right to hop up for a visit to Bear Mountain which is Connecticut's highest peak. It's about a half mile hike to Bear Mountain's summit from this spot. But it'
s a steep hike of about 600 or 700 feet of elevation in a very short distance so maybe you can come back another day and explore Bear Mountain and the miles of trail beyond it like Lions Head lookout. The A.T. here is about 1600 or 1700 feet above sea level and Bear Mountain is 2,316]
But going left in the direction of Sages Ravine is a rocky but easy hike. A short distance later you'll notice a trail sign that says Paradise Lane Trail (another option for checking out Bear Mountain some day would be to do the Undermountain Trail of Route 411 in Salisbury, Connecticut up to Paradise Lane Trail, up to Bear Mountain via the A.T. and down the other side of Bear to Undermountain Trail, back to your car...VERY difficult hike). But for this hike, ignore Paradise Lane and keep going down along the A.T., following its white hash marks. The ravine is beautiful and it plummets in between the hillsides and lush forest canopy with a near tropical floor scene bursting with ferns. Along the way there are campsites you can check out if you're into camping but otherwise just stay with the white hash marks of the A.T. until the very bottom of the ravine, the A.T. crosses over the stream to the other side (If you do decide to camp here, follow all instructions for securing your food from black bears...no need to worry about being bothered my them but don't give them an easy way to steal your supplies and make a mess if they happen to swoop by during the night. Doing so also protects the bears from becoming too people friendly and ensures their survival). If it's rained a lot or tons of snow melt flows, you'll get wet boots at the bottom of Sages but most of the time you hop and skip on some rocks to get over with dry feet.
From here it's about 3 miles to Mount Race and soon the rush and drama of Sages fades with a beautiful hardwood forest, peaceful and quiet, taking over and changing the pace and feel of the hike. Song birds and woodpeckers will be your companions through this stretch with a few high pitched chirps from chipmunks who are tipping off your arrival to other chips. For those of you living in southern Connecticut, you'll notice huge birch trees that are no longer prevalent like they were decades ago. Whether it's global warming, spreading suburbia, or other factors, birch trees like this are rare south of here. Eventually you'll come upon Laurel Hills campsite (used to be known as Bear Rock Falls). Further up and to your right, there are some really nice rocky outcrops that offer up gorgeous eastern views. It may or may not be closed off do to reforestation projects but if you find a spot just be very careful venturing over towards where Bear Rock Falls plummets over the mountainside. You can't see the falls but you can get up close to where it plummets over. But stay away from the edge. The thick tree tops make it seem as though it's not a big drop off. It is. If you fell, you'd die...or if you survived the fall some how they'd have to pull off one of the most dramatic rescue operations this region has seen in awhile. It's remote, dangerous (for the rescue workers), and would take them forever to find you...then they'd have to figure out how to get you out of there. So, just sit back well away from the edge and enjoy the views and just listen to the waterfall rather than going into "I have to see this up close" mode. This one of those spots a little kid could just wander too close or someone could start talking and walking around, forget to watch where they were and...whamo...tragedy in a blink of an eye. This hike is recommended because it's fantastic and a ton of fun, but feel an obligation to warn you of possible danger. Don't be scared to check this area out but use your head and don't wind up in the newspaper for all the wrong reasons. The hikers I were with had good instincts. Without having to warn them they just stayed well away and enjoyed the views and shady rest among the trees...they instinctively knew to just enjoy it but not push their luck. They respected the spot and they didn't even bother going to the edge of where the fall plummets over. Smart.
After the Bear Rock Falls area you just continue on towards Mount Race along the Appalachian Trial. The trail begins to rise steady but it's never really steep. It may get to you a bit because you've been hiking for awhile but just rest when you need to and take it slow. You will get a workout as you make your way north along the mountain ridge but it's never more than a gradual climb. Mount Race is different in that it just seems to keep going up to a summit point, then you realize you've got more to go! It's one of those spots where you won't be able to say "this is the highest point". As it rises up notice how the trees are much shorter in this region. They almost look like banzai trees or as if a gardener comes around frequently to prune. Harsh winters more than anything keep these trees from getting too big...they're wise old trees. They know it's best to keep things simple in order to survive and thrive. (If you hike in winter, you'd better know what you're doing and dressed with all the proper winter gear and equipment. It can get brutally cold with howling winds that could put frostbite on exposed skin. )
As you come closer to the top there is a section of trail that might really scare some people. If you have a fear of heights with sheer dropoffs, the trail sort of emerges out of the woods and suddenly into the open with a massive drop off that's just about 15 feet from the trail edge. It's scary initially but there's plenty of trail to hike along - but if you tripped and tumbled over, it's conceivable that you could tumble all the way over but even then you should have enough buffer to prevent falling hundreds of feet down. But spots like this produce a healthy fear without terrifying - it's a fun fear! This is one of the spots you'll likely talk about later on when you get back home. The views are stunning and the drop offs give you an adrenaline rush. For southwestern New England, this is about as dramatic as it gets. There's even a large rock that allows for the classic hiker pose.
The trail continues to rise up along the eastern side of the mountain, giving up more and more wonderful views that should at least produce some jaw dropping awe. Then it bends slowly on top (look to your left (west and southwest) and on a clear day the Catskill rise up high in the distance with the Shawangunks tiny bumps way off southwest), then over to the northwestern side of Mount Race before heading back down into the forest. Along the way a few rock cairns (piles of manmade rock appear and one of them marks Mount Race's apex, though not sure which one). On the day these pics were taken, turkey vultures swooped in for close looks and a wild raven was sunning itself on a rock...mouth wide open for ventilation. It looked cool and fellow hikers got up close with their cameras. The raven then flew off and gave out wild yells as if to distract us from possibly finding its nest. Like a lot of mountaintops around here, the hardwoods and pines are stunted in growth. As noted before, several look like banzai trees...fully mature but miniature in size. Though we were pressed for time by the time we reached Mount Race and needed to continue on right away, it's a great spot to just chill out and take in all the magnificent scenery and overviews. Just rest and enjoy your reward for hiking in so far. This is the perfect spot to have lunch and just chill out from the hustle and bustle of everyday life. You deserve it if you've made it this far! You've still got a lot of trail left but the hard part is over...though some think coming down is just as hard as hiking up!
About a mile after Mount Race's summit the A.T. meets up with the BLUE trail markers of Race Brook Falls. There are a couple of trail posts within 50 feet of each other. The second one has more specific information and will tell you it's 2.5 miles to your car. If for some reason you are feeling fantastic and not tired after this long hike, it's only 0.7 miles up to Mt Everett's summit which also has some tremendous views (the old fire tower was taken down long ago so you can't scramble over the fence and illegally climb the tower for those 360 degree views anymore. It's a tough hike up but only adds about 1.5 mile round trip so if you're feeling great, grab another mountain top at 2,602 feet. For that you'd continue along the white hash marks of the Appalachian Trail and then just come back down to this spot the same way you hiked up. But if you've had your fill for the day, then turn right and follow the blue trail markers of Race Brook Falls.
It's a relatively short walk through the woods until you reach the brook that feeds Race Brook Falls. You'll follow it (make sure you keep your eyes on the blue trail markers as it would be easy to lose them during certain spots along this section of trail) and eventually cross over a foot bridge and on up to the first tier of waterfall. The hike through this short section is a unique blend of dark forest and lush greens along the forest floor. Little bogs, streams, etc., change the environment once again. It's here you have a choice. If you're tired or have had enough, go left and follow the blue trail markers into the woods. It bends around the falls, crosses at the base of the top waterfall tier (there are three tiers), goes back into the woods where you'll hike all the way back to your car hearing, but not seeing, the two lower tiers of the falls - they are nearly identical to this third tier so if you miss them you at least have an idea of what they're like. Another option is to hike an inner blue trail that stays close to the waterfall. However, some find the blue markers hard to spot at times and some sections of trail might be too steep or slippery for some. This is potentially hazardous if you're not familiar with the trail system or if you're legs are tired from a long hike but there's no doubt it's a thrilling hike especially if the falls are running strong. It's a steep drop and in certain points a little hairy at time because the falls cascade a few hundred feet in about a mile. As noted, it's also easier to loose track of the trail markers which could send you closer into the falls than you wanted to go and maybe into one of those "what do I do know?" predicaments. It's a gorgeous waterfall to see up close but a few spots are dangerous with very steep drop offs. Advice would just be to follow the outer/main blue trail as it winds around the water and back down the mountain through the forest if you feeling tired. This trail eventually meets up with another trail and you take a right where they meet for short walk out of the forest and to your car at the Route 41 parking lot. Or you can take a left and hike back up a short, and not too steep a trail, to see the first waterfall tier.
Oh, and don't forget your camera like I did. Fortunately, one my hiking partners saved the day by allowing me to use hers and produced the photos you're seeing on this page. This is a photo op you wouldn't want to miss.
Other hiking options for Mount Race:
If you're the type that likes a full on, "wipe me out", high octane workout or you don't have two cars to bring to park on either end of the trail, you have 4 options. But...you'll need to be in VERY good shape to attempt these. These are long hard hikes and you will have to turn around and hike back so you will be out all day. 2-3 liters of water, a big lunch and lots of snacks, and LOTS of time and patience. This option is not good at all if you're not out there hiking up mountains all the time or not working out at the gym getting 1-2 hours of cardio on a regular basis.
1) Race Brook Falls to Mount Race
The "easiest" of the hard routes. It's not easy of course but it is by far the shortest. About 3 miles up to Mount Race, and then back to your car, with elevation gain of about 1,500 feet. The parking lot is about 700 or 800 feet above sea level and Mount Race is 2,365 feet high. You'll want to check out the amazing Race Brook Falls so follow the inner trail loops (blue trail system with blue marks on trees, rocks, etc) to experience it. Or you can do the outer loops that make it easier to hike around the falls, but you won't see much of it if you take the outer loops (click here for Race Brook Falls page). When you've scaled the entire waterfall, the brook flattens out and you follow the blue trails into the woods. A really peaceful hike through here for about a half mile. Eventually the blue trails meets up with the white trail markings of the Appalachian Trail. Around this area are campgrounds for overnight camping. But if you're not camping, you go LEFT (south) onto the Appalachian Trail, following the white hash marks. You've got 1 mile of uphill hiking to Mount Race. For this option park at the Race Brook Falls lot off Route 41 in Sheffield, MA (a few miles north over the border if you're coming from Connecticut via Route 41). Keep hiking on to the other side of Mount Race for more wonderful vistas. At the far end of this open trail space be very careful. If you're afraid of sheer dropoffs, there's a portion of trail that lasts a few hundred yards that could be very scary to some. If you somehow lost your balance and tumbled over...it could be a loooonggg way down. So please concentrate through this section or just stay away from it if it makes you nervous . However, if you just use common sense the trail is more than wide enough to protect you from the edge. It's a fun spot that will definitely get your adrenaline running! Round trip this hike would be 3-5 hours depending upon your pace.
2) Undermountain Trail to Bear Mountain to Sages Ravine to Mount Race
If you can do this in one day, you're officially in great shape! Now, some of you will take that as a challenge to prove you are in great shape. Please don't...believe you...you don't have to prove it. Otherwise, you may underestimate this option and really wind up regretting it if you're not a seasoned hiker (it's no fun being way out there with that "I've had enough" feeling, only to realize you've got a mammoth hike all the way back to the car). This is for the hard core hiker in great cardio shape (or of course you can camp along the A.T. and break this into 2 days of hiking).
What a thrilling hike this is! You'll take in some of the best natural highlights this region has to offer. Three miles north of Salisbury, CT on Route 41 is the parking lot/trail head for Undermountain Trail. It's on your left (on your right if you've come from Massachusetts). From the trail head to the Appalachian Trail is about 2 miles and it's another mile to Bear Mountain's peak which is CT's highest peak at 2,316 feet. So from the parking lot it's about 1,500 feet vertical climb in 3 miles - this isn't a walk in the park for the average day hiker. This will get anyone's blood pumping hard. From Bear Mountain down to Sages Ravine is another mile, then about 3 more miles to Mount Race from Sages. The whole hike is in the 6 to 7 mile range so that's 12-14 miles round trip (another option for this one would be park at Undermountain Trail lot and another car at Race Brook Falls lot then you could hike beyond Mount Race then down Race Brook Falls). On the way back you could bypass Bear Mountain by taking Paradise Lane Trail and dipping under Bear Mountain and back to Undermountain Trail. It would take a little distance and a few hundred feet of elevation of the return hike.Pack in a gallon of water (2 liters would be really pushing it, so more is better) and 2 large meals (trust me, you might get hungry...twice!). Expect to spend 5-10 hours round trip depending upon your pace and conditioning. Don't do this in late fall, winter (don't do this in winter alone or without lot's of hiking experience in cold weather), or early spring. The day's are short and it's really stupid to hike in the dark, with cold weather just waiting for you to make a mistake.
Printable version of the Mount Race page