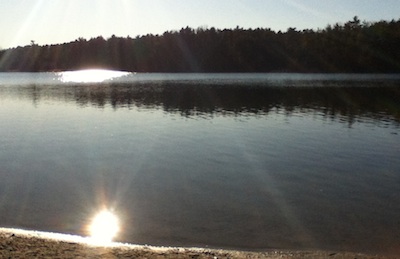 The Lake Mansfield Loop is an ideal escape for a hot summer day. The parking lot is on Lake Mansfield road. Situated just outside the small town of Great Barrington this attractive feature boasts a shady woodland, a beach, a small playground, barbeque pits, and of course, a lake. The trailheads are on Route-41/23 and Lake Mansfield Road.

The trail is a relatively new addition to the property, built and conserved by the Great Barrington Land Trust, it acts as a throughway for neighborhoods and a shady woodland loop for lakeside sunbathers. It's a short walk through pine and hardwood that isn't anything to brag about nevertheless a fine nicety. It's one of the largest open space parcels proximal to Great Barrington and best when taken with a quick dip and a hot dog. This leisurely wide trail is for all ages and all hiking levels, impossible to get lost in but very possible to lose oneself in.

Click here if you're interested in getting a guided hike in this region.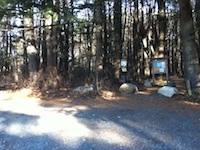 Directions:

From south, take RT-7/RT-41 north and turn right onto Taconic Ave. Then take your first right toward Castle Street, then turn left onto Castle street. Next take your first right onto Castle Hill Ave and stay on it until you see Lake Mansfield road. Take that right and continue until you see the parking lot on the right side of the road. From north, take RT-41 south and turn right onto Christian Hill road. Head up the hill then turn left onto Lake Mansfield Road, the parking lot will be on your left. Trailhead Coordinates in Decimal Degrees: 42.205061,-73.366509 If you have any trail updates to share or have feedback/questions please click here to send email.