Flag Rock is a short but rewarding experience. With easy to moderate terrain it shouldn?t pose too serious of a challenge?nevertheless the (on average) two hour hike will race the hearts of even the most experienced trailblazer.Located just outside of downtown Housatonic and close to Taft?s Farm it?s considered the ?back side? of Monument Mountain.

The trailhead isn?t well marked and situated within a thicket of trees just off the road. Look for well-worn Subaru tracks, cliff bar wrappers, and/or hitchhiking woodsmen if you?re turned around. There is a small field across from it, owned by Taft Farms, and they tend to grow pumpkins and butternut squash in it, although it changes per season per year.

Once you hit the path get ready for a ride. Climb a humbling hillside before turning (make sure you don?t wander into Root Orchard) onto a straight flat section filled with old oaks and maples. Continue until you meet a fork, going straight will send you to Monument?s Summit, turning left and up an immediate hill toward Flag Rock.

After the short hill it levels out and continues along a flat and straight section. Look for square and rectangular depressions several yards off of the path. They?re the remnants of old technologies?percolation pits, charcoal pits, some even claim they were used to produce gunpowder during Shay?s Rebellion.

The trail bends right (north), ventures down a steady slope and begins a slow climb. Continue onward and you?ll come upon two of the more distinctive pieces of the reservation. The higher bits follow a short valley accentuated by ancient trees and massive rock formations.

Finally it turns up the final portion marked by a cairn, a small rock pyramid, and the forest thins, turkey buzzards swoop overhead, and the sights and sounds of Housatonic come into view. From the scenic vista you?ll see Alford, the Taconics, and on especially clear days, the Catskills.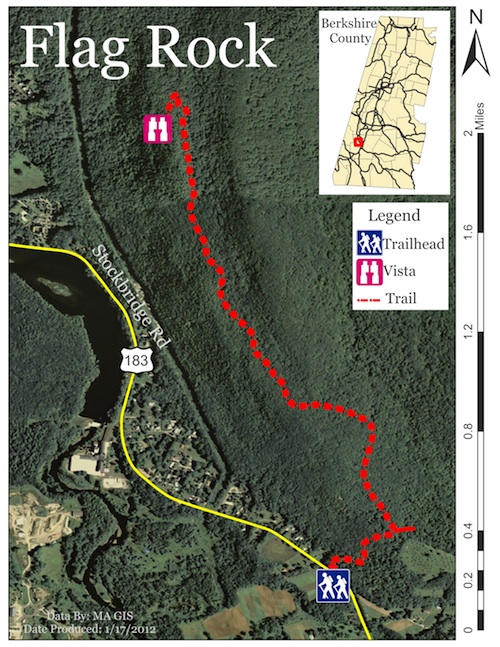 Click here if you're interested in getting a guided hike in this region.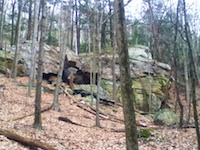 Directions:

From South: Take RT-7 N to RT-183 N, trailhead is 0.2 miles past Taft Farms on the right. From North: Take RT-7 S to RT-183 S, trailhead is 0.3 miles past Rising Paper Mill.

If you have any trail updates to share or have feedback/questions please click here to send email.