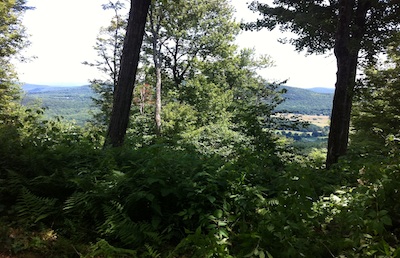 Alford Springs Nestled in the hills of Alford along the New York State line lies an old logging road that rises and falls with the landscape. Hundreds of conserved acres make up this diverse and ecologically valuable forest-scape that?s owned and managed by Berkshire Natural Resources Council and the Department of Fish and Game. Hiking, horseback riding, mountain biking, and hunting are all permitted but motorized vehicles are strictly prohibited.

The trailhead is just off Mountain Road, look for a white gravel parking lot about 50 yards into the wood. The trail is wide and grassy and small saplings arch overhead forming a tunnel-like path that shades in the hot sun and shelters in the hard rains. Start by crossing a stream, venturing up a small slopping hill, and entering a large clearing then keep right and ascend the largest and most difficult of the trail?s inclines. Views of rolling hills shouldn?t be missed so take care to glance over your shoulder every now and again.

The trail begins to levels out as a side path marked with red blazes emerges on the right. Going that way will cut the total distance in half and provide a more traditional hiking experience. It runs through hardwood upland forest, peaks with a view of farmland and rolling hills then switchbacks through a transitional forest community to reconnect with the old logging road.

If you decline the side path the feature vista of Alford, West Stockbridge, and swathes of farmland soon comes into view. Afterwards the trail descends through young forest and gifts views of the far off mother of mountains, Greylock.

Next, a brook babbles where the trail bends and barely noticeable is dilapidated town road that used to connect Massachusetts to New York. It?s a great section to take a break and admire the stream, the old oaks, maples, and cherries, and bask in song bird?s melodies.

The trail finishes with an easy incline past older forest stands, some young moribund chestnut trees, and the red blazed side trail. It exits onto the end of Mountain Road so simply walk the quarter mile southwest to the parking lot.

Click here if you're interested in getting a guided hike in this region.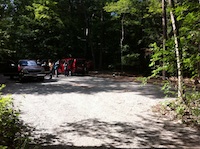 Directions:

From North: Take RT-7 S to RT-71 to Alford Rd then take a right onto Mountain Rd. If you have any trail updates to share or have feedback/questions please click here to send email.