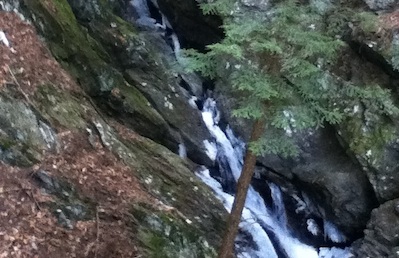 Stevens Glen Steven's Glen is a priceless parcel. An easy trail that should inspire the imagination of any wood goer it crawls through a forest that's more suggestive of the Pacific Northwest than the Atlantic Northeast.

Steven's Glen was not always open to the public. It used to host hundreds of Berkshire and New York bourgeoisie for dance parties. Yes, dance parties—there was once an oak floor near the cascade where the most well-to-do would convene and celebrate the nightlife. Since then the party atmosphere has dissipated, thanks in part to the now absent dance floor and the generous donation of Millard and Fredric Prior who gave the land to the Berkshire Natural Resource Council and the Richmond Land Trust in 1995.

The trail is short and sweet, descends several hundred feet through pine and old hardwood, turns North, then follows a stream before climbing to the falls. A great place to bring kids or have a picnic, this land is sure to enchant hikers for ages to come. And it's next to impossible to get lost on it.

Visit Berkshire Natural Resources Council's website for sessional group hikes, bnrc.net/events.


Click here if you're interested in getting a guided hike in this region.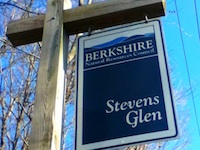 Directions:

From the center of Lenox, take Route 183 South 1.5 miles, passing Tanglewood. Where 183 bears left, turn right on Richmond-Lenox Rd, continuing uphill for 1.6 miles. At the top of the hill, turn left onto Lenox Branch Rd. (Lenox-West Stockbridge Rd.) and go 0.6 miles. Park at a small pull-off on the right with a sign for the Glen. Overflow parking is available 100 yards farther down the road. If you have any trail updates to share or have feedback/questions please click here to send email.