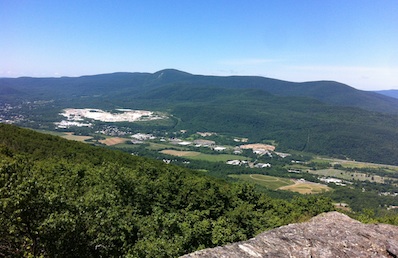 Hoosic Trail is an old ridgeline path once used by Native Americans to negotiate the Berkshire Mountains. It?s a small section of the Mohawk Trail, a trading highway hundreds of years old?older in fact than any in town in Berkshire County.

Headed East on Route 2 you?ll drive past the landmark ?hairpin turn? and likely gasp in awe at its sumptuous view of Massachusetts and Vermont. Many a motorist become distracted by the non-stop sights so be wary as the parking lot isn?t the most conspicuous of places. You?ll know you?re close when you hit a group of cottages that appear to hang off the edge of a mountain. The parking lot is located across from a large green highway sign, its? entrance marked by a sign that reads, ?Hoosic Trail? and underneath ?BNRC?.

Headed West on Route 2 you?ll drive through sparsely populated hill towns and find the trail?s parking lot across from a large green highway sign before the road pitches downward. If you begin to descend the mountainside into North Adams you?ve gone too far.

The trail officially opened only recently, it?s owned and maintained by Berkshire Natural Resources Council, and if you really want a treat try their guided wildlife tours which they offer seasonally. Visit bnrc.net and bnrc.net/events for a hiking guide or scheduled hiking events (don?t miss the twilight bonfire hike). Moose, deer, bear, fisher cat, muskrat, and all other sorts of critter visit the trail but unless you?re a tracker it?s difficult to pick out the signs. The tours are free.

From the trailhead you?ll hike over hardwood forest and small streams for half a mile. The starting elevation is already in the clouds but the trail climbs higher eventually reaching a fork with a steep incline as the backdrop. I?d suggest going left toward ?sunset rock?, especially if it?s that time of the evening. The trail is comparably steeper to its counterpart on the right but more enchanting. When you arrive there?s a large ?window? with views of North Adams, Williamstown, and some of the preambles to Greylock Mountain. The path then follows a rolling ridgeline which is occasionally interrupted by walls of granite. Look closely and you?ll find deep grooves in the rock, 10,000 year old striations from the retreat of the last glaciers.

The trees are gnarled and dwarfed, interesting looking beings that?ve dealt with a mix of powder dumps, freezing rain, plenty of sunshine, and crisp clean air all year round. Wetlands dot the landscape so watch for frogs and salamanders on the path and don?t forget the binoculars.

The trail finishes at Spruce Hill where it intersects with Savoy State Forest?s Busby Trail. From there you?ll have views of Greylock, the tallest mountain in Massachusetts, and much of the surrounding landscape. Especially nice during the foliage season this isn?t a trail to pass up.

Click here if you're interested in getting a guided hike in this region.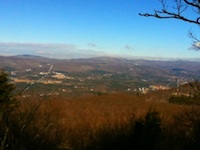 Directions:

Take RT-2, the trailhead is near the border of Florida and North Adams. If you have any trail updates to share or have feedback/questions please click here to send email.