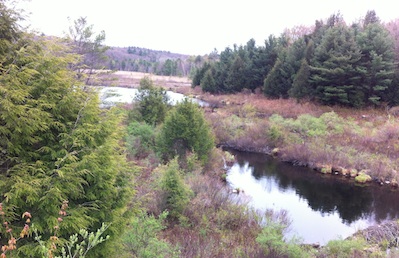 Basin Pond was twice dammed, once for high-end real estate, once for hydroelectric power. In the end both broke and both caused terrible damage to the surrounding peoples and places. The trail is beautiful and somber, a quiet reminder of the losses incurred and the limits to industrial development.

The trailhead is off of Becket Road in Lee Massachusetts not far from Route 20. It begins with a dense hardwood forest accentuated by intermittent streams, small wetlands, and wildlife signs. After a 15-20 minute hike the trail splits.

Going left takes you along the more scenic lower route, a flat path about 100 yards removed from the waterfront. Views of the pond and large boulders are the main attractions but also noteworthy is the trail design. The rock work is bar none some of the best you'll see in Berkshire County, whether it stepping stones over a brook, a portion of path that meanders around bus sized boulders, or the turnpikes?, you'll find it all ergonomically pleasing and aesthetically exceptional. Plant life flourishes along the way, look for trillium, wild oats, elderberry, but be weary of nettles.

At the conclusion of the trail is another fork, going straight will send you along the upper route, going left to a spur trail that takes you to a lookout. The lookout is a wooden platform great for snacking, birding, or sun bathing. Situated on top of the ruinous old dams it looms over a shaded stream and offers great views of the pond and surrounding forest.

The upper trail snakes through oak, maple, birch, beech woodland before crossing several seasonal streams and reconnecting to the main trail.

Themed hikes are available via Berkshire Natural Resources CouncilBerkshire Natural Resources Council who also own and manage the land. Visit their website for contact information, scheduled hikes, and/or more information concerning Basin Pond.

(Verified page info: March 2015)
Click here if you're interested in getting a guided hike in this region.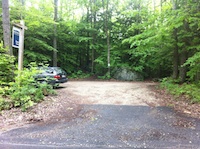 Directions:

From North, take RT 7 South, turn onto RT 20 East, turn onto Becket Rd, the trailhead is 0.2 miles up the road on the left. From South, take RT 7 North, turn onto RT 20 East, turn onto Becket Rd, the trailhead is 0.2miles up the road on the left.

If you have any trail updates to share or have feedback/questions please click here to send email.