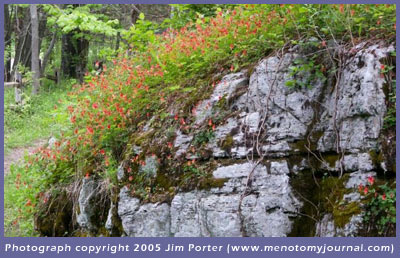 When visiting Bartholomew's Cobble make sure to bring backup batteries for your digital camera or you'll get out on the trail and only have enough power to snap one photo! (what a bummer - fortunately Jim Porter of www.menotomyjournal.com has provided some nice photos until I can get back there myself). And you wouldn't want to miss out on all the amazing photo ops available at Bartholomew's Cobble. Part of The Trustees of Reservations efforts to save special places from suburban sprawl, Bartholomew's Cobble is a shining example of why remaining land should be preserved. Once it's gone, it's gone. It would have been a shame if one of those cookie cutter neighborhoods were plopped down here. Fortunately, the National Park Service recognized Bartholomew's Cobble as a National Natural Landmark so Mc Mansions aren't in the foreseeable future.

Bartholomew's Cobble gets its name from the Cobble of rocks (limestone and marble) that bulge out to form a couple of small hills surrounded by farmland and a winding river. The outlying towns are very rural and picturesque to begin with and so the preservation of this parcel of land creates a hikers dream. It's easily accessible via Route 7 but you'll feel much farther away from civilization than you really are. You can wander through open fields with wildflowers, through thick forest, scramble over rocks, hike along the Housatonic River, and make your way up to an overview with one of the best views anywhere (I'd show it but I blew it with my camera miscue!...click here to visit the official site of Bartholomew's Cobble and view a nice photo.) According to the friendly staff at Bartholomew's Cobble's visitor center, wildlife abounds and offers the quiet hiker/walker plenty of viewing chances. Owl, hawks, bobcats, wild turkeys, deer, a plethora of bird and plant life abound along with the occasional black bear. The animals have a nice buffer zone to call their own and the activity they produce gives an indication of just how safe they feel here. In other areas the same creatures would be much more shy and wary. The best times to view wildlife are at dusk or dawn.

One of the nastiest residents inhabiting Bartholomew's Cobble are the deer fly. During the hot summer months you must bring bug spray...and make it high octane while you're at it! The ranger asked me if I had bug spray as I made my way to the trail head. "Thanks, I'll be alright. I actually don't mind the deer fly too much." Five minutes later I literally came running back to the visitor's center like Ace Ventura being chased by cave bats. As soon as I entered the forest they were all over me. Usually it's just a couple that eventually go away. Well, dozens of them decided to give me the royal greeting and if you've ever been bitten by one deer fly it's not pleasant. Fortunately, the DEET spray from the ranger worked and I was able to continue on uninterrupted.

The trails are well maintained, clearly marked and although Bartholomew's Cobble isn't a huge place it does offer a real nice variety of terrain and plenty of great spots. There's plenty to see and do whether you're interested in a short walk or long hike. You can call ahead to get guided hikes or canoe rides on the river. As I noted, the staff was extremely friendly and eager to share their knowledge of Bartholomew's Cobble and the surrounding area. If you're looking to take a nice ride through some beautiful countryside and then stretch the legs with an easy, accessible hike Bartholomew's Cobble is a can't miss. And don't forget the batteries. It's also important to note that a $4 fee is asked for, $1 for children 6-12.

Just up the road is Ashley House which offers interesting historical preservation and perspective. Colonel John Ashley's house which he built in 1735 for his wife is the oldest in Berkshire County. It's worth a quick visit even if you're not normally into that sort of thing.

Click here if you're interested in getting a guided hike in this region.
Directions:

Bartholomew's Cobble website These directions are taken directly off of Massachusetts State Parks website. From Rt. 7 south in Sheffield, turn right onto Rt. 7A and follow for 0.5 mi. Turn right onto Rannapo Rd. and follow for 1.5 mi. Turn right onto Weatogue Rd. to entrance and parking on left.

From Rt. 7 north in Canaan, CT, turn left onto Rt. 7A and cross state border. Turn left onto Rannapo Rd and follow for 0.8 mi. Turn left onto Weatogue Rd. Continue as above. Designated parking area for 30 cars. Phone number: 413-229-8600

Printable version of the Bartholomew's Cobble page