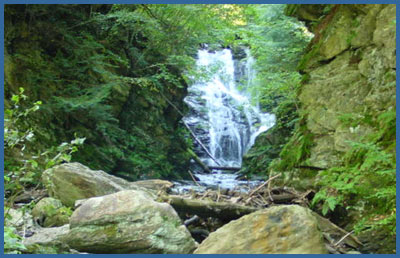 PLEASE NOTE: Walk in from local businesses that allow parking if you can. Residents of this small, narrow, street often find themselves overwhelmed with parking issues or loitering around the trailhead. Enjoy the trail but be mindful of those who live there. Leave No Trace isn't just trail advice but also for parking here. There is only parking for 1-2 cars near the trail entrance.

The Cascades Trail is a short, beautiful river walk following the Notch Brook in North Adams from the end of Marion Avenue to a popular cascading waterfall. A hidden in-town gem, this trail is minutes away from downtown areas of North Adams and Williamstown and short enough to attempt on a whim for those of you who may be seeking to squeeze a nice hike into a limited amount of time. Although technically an extension of Marion Avenue, this trail has been protected from motorized vehicle traffic for many years and set aside for hiking, snowshoeing, cross-country skiing. The entire hike takes about an hour and a half, and is flat enough for even the most inexperienced hikers to enjoy a taste of nature. When you approach the falls, this trail follows very close to the brook, and in one short (20 meter) section it may require you to walk along rocks depending on water levels. Just after that short section, you will traverse a moderately steep but very short side hill for your first glimpse of the falls. Feel free to walk along the rocks to the base of the falls for a refreshing break from summer heat, or follow the aggressive climb along the right side of the falls to the top for spectacular views of the river below.

(The trail description and photographs on this page are courtesy of Ryan Auge'.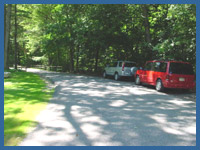 Directions:

: From Williamstown: Follow Rt. 2 East to North Adams. After the bridge (over the Hoosac River) and a traffic light, there is Shell station (on left) and Notch Rd. (on right--Mt. Greylock Reservation sign) make a right onto Marion Avenue. If coming from the east
Please note: The directions were provided by a resident on this street. They often deal with stressful situations regarding parking and trail access. In the spirit of good sportsmanship please take the following advice from the neighborhood to heart for the sake of those that live there. Thank you! "This is a residential street that narrows towards its end and becomes a private driveway. The parking is limited to two or three cars off the road on the right. On the weekends it is best to park around the median in the block before where the road becomes two-lane again at Pershing St. Otherwise it is very difficult to turnaround and cars and private property have been damaged in the process. The trailhead is accessed by walking to the end of the street then on the right side of a split rail fence along the edge of Notch Brook. The residents request no gathering at the trailhead. This is our neighborhood, not a public parking lot."

Printable version of the Cascades Trail page



If you have any trail updates to share or have feedback/questions please click here to send email or call 203.788.7665