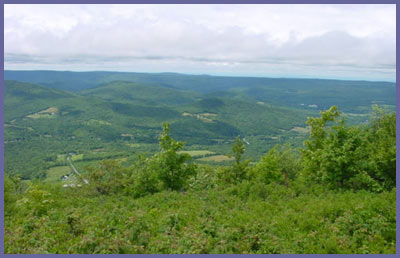 Taconic Crest Trail runs for 35.4 miles in or right near western Massachusetts, from Williamstown all the way down to Pittsfield. The trail heads up into Vermont and a lot of the trail in relation to Massachusetts meanders back and forth along the New York and Massachusetts state borders. Petersburg Pass just over into New York and adjacent to Williamstown is the most popular starting destination along the trail. It's classic New England geology and scenery. Rolling hills, throngs of trees, with dozens of towns and a few small cities nestled into a valley. If you hiked the entire Taconic Crest Trail you'd ascend 7,869 feet and decend 8,835 feet which should tell you just how hilly it is. Combined with the South Taconic Trail in southwestern Massachusetts, a near complete trail system exists along ridge lines encompassing Massachusetts as it borders with New York. It allows a hiker to disappear for days and ramble on up and down Berkshire Mountains in a manner similar to pre-European settlement. With all the side trails leading in, it's a day hiker's dream. Dozens of day hikes can be accessed incorporating the trail. Many people are familiar with the Appalachian Trail's sweep through the state though most don't realize there's a parallel trail further west and just as nice. You do now ;) So? Well? As James Brown once sang "get on up!...HEY!!". I'm sure he was referring to hiking, so get on up.
Taconic Crest Trail unofficially begins in Pittsfield since when you buy maps and booklets for the trail the trail sections are listed south to north. But of course you can make your own official start at the northern end in Williamstown, MA via Williams College Hopkins Memorial Forest or Petersburgh, NY via Petersburg Pass parking lot atop Route 2. Petersburg Pass seems to be a grand choice since the lot is large, well maintained, and waaay up on so it takes a lot of the elevation out of hiking up for those magnificent views. The mountains are a bit grander and the views more striking than what you'd find down in Pittsfield though that section of trail is definitely underrated. Route 2 crests a mountaintop right where Petersburgh, NY meets Williamstown, MA with a large hiker parking lot making for a nice place to start a trek. Hop out of the car and head south for Mount Greylock and Berkshire Mountain views via Berlin Mountain or cross the road and head north to "Snowhole" and into Vermont where the northern point of the trail officially ends at Route 346. (NOTE: "Snowhole" (detailed description) is a bit of a "nature celebrity" that most locals know about and think fondly of. It's unique for sure and a hiking destination if you have kids or if you want a nice highlight to end a moderate hike. However, I personally was disappointed when my eyes saw Snowhole for the first time. I guess I had expected something bigger, more dramatic, more "wow". The way it was described to me was very different than what I saw. The person I was hiking with felt the same way. It's definitely a neat spot, no doubt about it. You have a little chasm you can walk down into with huge craggy rocks on either side of you. At the very entrance to the chasm just as you'd step down there is a hole in the rock. It's a very small cave that is really neat to clammer in there. But if you're into caving or you've heard about Snowhole and willing to drive a very long distance just to see it, you might having a somewhat "that's it?" feeling come over you. And the legend has it that snow is in the hole in summer. It depends on the overall weather pattern of a particular year. August of 2006 there was no snow at all. It's a perfect hiking jewel if you had kids along with you. They'd love it. And in the summer it's definitely a great way to cool off since the temperature dips substantially just a few feet down into the rocky chasm. I try to stay away from "you will like it or you want like it" opinions since it's all subjective and I believe folks should just experience their own trail adventures. But some people go well out of there way to hike to Snowhole. There are some nice views along the way to Snowhole and some amazing botany so the hike is a fantastic day hike if you happen to be in the area. But driving from New York or Boston just to see the Snowhole? I'd recommend visiting M)
From Williamstown to Pittsfield you'll have dozens of choices in terms of day hikes along the Taconic Crest Trail. Some highlights along the trail in the north to south direction include Pownal, Vermont overlook, "Snowhole", Petersburg Pass (even the parking lot as good views on this trai!), Berlin Mountain, Rounds Mountain, Berry Pond, Tower Mountain, Lebanon Springs, and Twin Pond as you near the end in Pittsfield, MA along Route 20. There are of course many other highlights and trail options along the 35 mile stretch of trail so one could explore it for months on end.
Some of America's greatest writers used The Berkshires as a playground and for artistic inspiration. Nathaniel Hawthorne, Oliver Wendell Holmes, Herman Melville, and William Cullen Bryant were a few local punks who done good. The geology of the region had a great impact on them with Melville leaving South Pacific paradise to return to the Berkshires to be near his favorite mountain, Mount Greylock. As many of you know, Greylock reminded Melville of the great whales he saw sailing the seas and eventually naming one whale in a story named Moby Dick which wound up selling one or two copies I'd say. Along the Crest Trail you'll see why they were inspired by The Berkshires and you'll also see how it remains a perfect hiking destination. I wish I had command of the English language as the aforementioned authors but I'll boil the trail down to two words that will never deliver me a Pulitzer but might deliver you to the trail: "great stuff". Profound, huh? Sometimes simple is profound.
You've got every thing you want when you hike the Taconic Crest Trail. Those amazing views we seek, solitute, small caves to explore, overviews of small towns nestled in lush greenery, open fields with wildflowers, tall quiet forest canopies that seem to hug gently and make you feel safe, and even an unexpected jewel known locally as Snowhole - a place that holds snow and ice well into the summer months. This trail brings back memories of a landscape Huck Finn would thrive in, a land Colonial New Englanders would recognize, as well as a fresh memory for those who remember America before the 1980-2005 suburban development explosion that has taken away some of America's finest natural beauty. It's a place you just have to hike. Trails like this are the reason you hike.
The trail is quite extensive so the best way to explore is to buy a package put out by the Taconic Hiking Club (I searched and searched for their website...nada...their street address is 45 Kakely Street, Albany, NY 12208). The package includes 11 wonderful maps and a booklet that should get you to where you need to go. Most of you will tackle the trail in bits and pieces over an extended period of time. Those who want to tackle large swaths in single hiking treks should know that the trail isn't like the nearby Appalachian Trail which has plenty of back country campsites and trail runners. Use the maps to plan out section hikes or spots you might be able to thrown down a tent. The booklet is about the price of a large pizza with mushrooms so don't expect an in-depth book though you won't be short changed on the quality of information. Check out Williams College store downtown Williamstown, MA and if they don't have any they'll point you in the direction of a local store that might. The Mountain Goat store typically has lots of hiking/nature maps and booklets about the local area and western Massachusetts region.
You can also visit Williams College Outing Club website and get some info on the section of trail that runs by Hopkins Memorial Forest which the college looks after. A good map and trail directions can be had by visiting Williams College Hopkins Memorial Forest web page, http://www.williams.edu/CES/hopkins/public/trailmap.htm (contact info on the left column of when you go to that site). Hopkins Memorial Forest has some great trails to explore and some lead right up to Taconic Crest Trail. If you're in the Williamstown, MA region and just want to quickly check out Taconic Crest Trail, you're best bet is to follow Route 2 west as it enters Petersburgh, NY at the top of a mountain ridge. A large trail parking area is prominent so you can swing in and jump off for a hike. You can also visit Berkshire Hiking's Snowhole page to check out a cool place while getting some fantastic long distance views thrown in.

The Rensselaer Land Trust, http://www.renstrust.org, has a nice Taconic Crest Trail page (left side of main page and down a bit) with some photos, history, and information.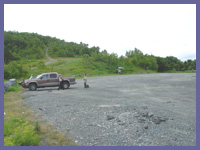 Directions: Petersburg Pass parking lot: From Route 7 in Williamstown, MA, turn onto Route 2 west at the Taconic Park Restaurant approximately half way between the Store at Five Corners and the Wlliams Inn. (This road is known locally as the Taconic Trail.) When you reach the top of the hill you will enter the town of Petersburg NY, and you'll come to a large parking area on your left. Park there, and cross the road to access the trail head to the Snowhole near Vermont state line or just head south to Berlin Mountain (about 2.7 miles one way and somewhat challenging) by hiking up the trail leading up the hill at the back of the parking lot.
Printable version of the Taconic Crest Trail page
If you have any trail updates to share or have feedback/questions please click here to send email or call 203.788.7665