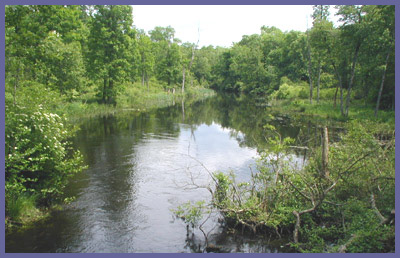 My four year old nephew has discovered the old pastime of "ploppin' rocks", as he likes calls it. Another uncle of his introduced him to the art of skimming stones or just tossing rocks into the water. As far as he's concerned nothing is more exciting than seeing an explosion of water or watching a stone bounce across a river or pond. So if you're into ploppin' rocks too, Saugatuck Falls Natural Area is your place. And the hikin' ain't bad either.

Saugatuck Falls Natural Area is located right across the street from John Read Middle School in Redding, CT. off of Route 53. Make your way into the Natural Area and you'll soon disappear into another world. It's not a huge place but the terrain changes frequently and the various trails allow for some serious hiking. Within 20 minutes you can pass over the Saugatuck River, through open fields, into dark forests, and along a small waterfall/rapids section of the river. Because this area is environmentally protected and cared for, the wildlife have the run of the place. All types of birds, water fowl, and plant life are in abundance. Wild turkey, deer, hawk, owl, heron, and possibly a bobcat or two also prowl through here although seeing them is a bit tricky since they stay very clear of the people (and family dogs) that frequent this place.

The trails are clearly marked and well maintained which allow for some great hiking. If you hike the entire preserve you'll get a serious workout. It's mostly flat and there isn't a mountain top view but the trails undulate enough to get your heart pumping if you were to venture in far. Even if you just wanted to take a short walk along the banks of the Saugatuck River, you'll have a very good chance of seeing some interesting wildlife activity. Within 30 minutes of exploration with my nephew we saw a turtle making its way to the river, an owl swoop down and snag a mouse, a neat little frog using his camouflage expertise to hide from us, and a pair of wood ducks swimming and eating within a quiet part of the river. Most people who visit here are local residents who use part of the place for exercise (walking/light jogging) or to run their dogs. But if you take your time and explore further back, nature presents a fine showing that you'll miss if you're too busy walking with your head down or talking too loudly.

Follow the trail sign to the falls where you'll come upon an interesting water world. You'll hike along the banks of the river and eventually to a small section of river that tumbles over some large rock formations. When the area sees a lot of rain, the rapids can be quite powerful, generating the waterfall. Locals have rigged up a rope which allow them to hang out in the rapids during summertime - a great way to cool off (although it made me nervous to watch the local teens doing this as I visited while the rapids were extremely powerful).

Most hikers probably don't venture off into the back area of this unique spot, but you can go beyond the power lines and experience some peace and quiet as well as a nice change of ecosystem. During fall foliage season or even the crisp wintertime, Saugatuck Falls Natural Area certainly would offer up some choice moments where it would feel more like Maine than Redding, CT. Make sure you monitor toddlers carefully if they are joining you. Along the river the trail is a little shaky and slopes towards the river. The rapid/falls section would be very dangerous if they got too close.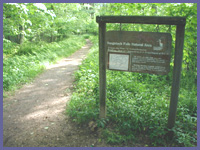 Directions: The following directions were sent to Berkshire Hiking by Tom Ebersold. Tom is a hike leader and local expert on Redding trails. These directions were sent January 1, 2006 and have been copy/pasted into the following paragraphs.

I highly recommend parking at John Read Middle School. These are road-tested directions to the school:
From the southbound Merritt Pkwy., take Exit 44 Head north on Rt. 58 for 10 miles. Left onto Cross Highway by the church (Church Hill Road on the right). Go 2 miles. Straight onto Rt. 107 South at the stop sign (by the Redding Nursery). Go 1 mile. Right onto Rt. 53 North at the stop sign at the bottom of the steep hill. Go 3/4 mile. Right into John Read Middle School.

From the northbound Merritt Pkwy., take Exit 42 Head north on Rt. 57 into Weston Center where it meets Rt. 53. Follow Rt. 53 North. One mile past Rt. 107, you will see the school on your right.

Directions from I-84: From I-84, take Exit 5. Head south on Route 53 through Danbury and Bethel. The school will be on the left-hand side about 2.7 miles south of the Bethel-Redding border. If you see the blinking red light or the Mark Twain Library, you went too far.

Printable version of the Saugatuck Falls page