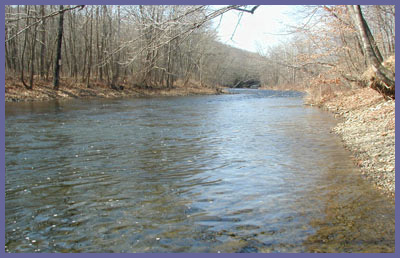 River Road Preserve located in Roxbury, CT. is nestled in a very rural part of town along the Shepaug River. This parcel of land is part of the Roxbury Land Trust and is looked after and maintained year round so the trail system is always in great shape. The River Road's blue trail loops around the preserves perimeter and takes a hiker through thick woodlands and along the river's edge, creating a very peaceful and serene environment. The trail is not long but it's a great hike as there is a variety of terrain along the way. River Road is the perfect place to find some peace and quiet. Bring a good book or some lunch and relax on the banks of the Shepaug River.
The trail head is a little tricky as it's easy to mistake the entrance to a local town swimming hole footpath as the beginning of the trail. But the trail actually starts at the extreme left corner where the parking lot and main road meet. Once you take a good look to the left as you pull in, the blue marking and trail sign are easily seen. Be careful not to hike down towards the large pond that is open only to Roxbury residents...especially during summer months when the residents use this spot to cool off from the weather. Please respect their right to private property and stay on the trail (Although during winter months it wouldn't be that big of a deal to stroll past the pond and meet up with the trail from there. Obviously, during cold weather not many folks will be takin' a dip in the pond!)
As you make your way into River Road you're quickly transported into a thick forest canopy with plenty of tall trees and a hilly terrain that is quite manageable. After a short scramble up a rocky hill there's more woodlands before you find yourself at the river's edge. At this point you have a decision. You can proceed back towards your car for a nice river walk along the banks of the Shepaug, or you can incorporate Ersbacher Preserve into your hike by proceeding over the footbridge. Ersbacher has a larger loop trail than River Road so you would be more than doubling your hiking distance. Ersbacher takes you deeper into the woods and passed some nice open fields. In the summer months the area of River Road and Ersbacher see plenty of activity with all the local wildlife thriving within the seclusion of the land and having a nice water source provided by Shepaug River. The preserve is an easy hike and will definitely provide hikers with a "get away from it all" feel. Bring a camera or paintbrush if you're into those hobbies. You're sure to find some great scenes to capture.

Directions:

The directions we're giving assume that you'll get to Roxbury using Route 67 west/south direction. For custom directions you can map search River Road; Roxbury, CT.

Follow Route 67 via Brookfield/Bridgewater/New Milford way and over the Roxbury townline. Shortly after the townline sign 67 curves sharply to the left. A short distance later you'll see a small bridge spanning the Shepaug River. Take a right here onto Weller's Bridge Road. A few hundred yards up Weller's Bridge Road is River Road which becomes part dirt road. Take a right onto River Road and the River Road Preserve parking lot will be on your right a few tenths of a mile up the dirt road.

Printable version of the River Road Preserve page



If you have any trail updates to share or have feedback/questions please click here to send email or call 203.788.7665