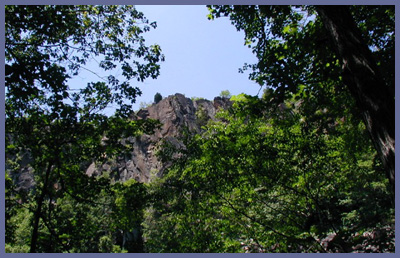 Sleeping Giant State Park State Park in Hamden, CT.... Sleeping Giant? How about a sleeping giant squid without its long tentacles? Sleeping Giant State Park in Hamden, CT gets its name due to the hilly profile that resembles a man...a giant man. I'm thinking Sleeping Giant Squid State Park but that's neither here nor there since I'm sure I'm in the minority with that one. The facts are that Sleeping Giant State Park sports miles of trails to hike, convenience to get to them, excellent trail maintenance, with a tall stone tower capping off the park affording some cool views of the surrounding area. The skyline of New Haven and the Long Island Sound are clearly visible from the tower and especially so on a crystal clear day with no haze on the horizon. Sleeping Giant has a labyrinth of paths as any good giant worth it's giant status should. Easy, moderate, difficult hiking can all be planned out so it's appropriate for all ages and abilities. Sleeping Giant is a wonderfully, busy state park that is well maintained and cared for.

Sleeping Giant is a short bus ride from downtown New Haven so it sees a lot of visitors each year. It's also right across the street from Quinnipiac College which means student outings are common. And you may have to navigate the winding trails around whining school children (story below) out for a field trip. But the hiking is well worth it as it's one of those spots that seems quite active down in the parking lot area but soon you can disappear into a serene forest and be rewarded with peace and quiet and wonderful views in no time at all.

The most popular trail is the Tower Trail that winds up in a series of switchbacks until you reach the stone tower and 360 degree views. The blue trail is the Quinnipiac Trail that traverses over the top of hills that give the park it's name. The white trail begins the Tower Trail from the parking lot and joins the blue for a short distance then it's all blue trail to the tower. It's the easiest way to get to the tower though it may not be the fastest as the main map area indicates. It's a wide gravel and dirt road for a good distance before becoming a typical forest trail up in the hills. The blue trail intersects with the white trail at times which may confuse but staying with the blue trail once you join it will definitely get you to the tower views you're likely there to see.

I had the misfortune of visiting Sleeping Giant State Park during a late June weekday...forgetting all about the traditions some schools have of slacking off the last week of school to take field trips out into nature as a way to embrace the nearing summer vacation. A group of at least 30 elementary students (all girls) were about to head out on the Tower Trail for what was obviously a first hike for these city dwellers. So I hustled up and got on the trail just before them to avoid a major traffic jam. The Tower Trail has a series of switchbacks and sure enough...they cheated. They outsmarted me, outsmarting them. Thinking I was free and clear of them I turned back around a corner to notice their teacher/counselor leading them through a short cut which was technically an illegal move since the signs clearly asked visitors to stay on designated trails to protect the park's ecosystem. But who's gonna confront a group of 30 to teach them proper trail etiquette. Apparently not me. They were having a great time with excited voices filling up the lower park like a choir so I just stopped and watched as they all poured back out onto the main trail causing me to reach for my map and a choose a back up plan. They were keeping an Olympic pace, singing, talking, squealing with adventurous excitement, with a few out front boldly bragging they'd be up top in ten minutes. One teacher was singing a song as I stopped to watch a traffic jam clog up the trail ahead of me. They were making good time and it was great to see them immersed in nature.



I had a choice. Slowly follow behind them or find another way. I knew they'd be sucking wind in about 5 minutes given their rabbit pace, clogging up the trail and probably whining, so I got out my trusty park map and deduced I'd have to take a longer route to the top but I'd get there in peace and a lot faster than following after them. And so it was as I made it to the top by taking the yellow trail to the second red trail then up to the blue. I was alone the whole way and surrounded by a quiet forest hike for the most part. It's amazing how a nice forest can gobble up the sounds of the modern world. The tall hardwoods and lush ground bushes creates an acoustic wonder. The sounds coming from the playing fields of Quinnipiac College and the main road eventually ease away and the sounds of nature take over. Chipmunk chirps and the usual songbirds that love hillsides greet you and if you pay attention you'll realize just how lush the forest is from floor to canopy. It was a steep hike at times but mostly just continually going up and in no time at all I had crested Mt. Carmel, took a right and bounded up towards the tower following the blue trail.

The tower is hidden by the lush forest and comes upon you almost suddenly making for a good visual experience. It looks regal, strong, sturdy, and just says "come up here!". It brings the kid out in you and the paved walkway up circling around the castle is much easier than the usual clunky staircase you'd normally get at a place like this. I lingered taking in the nice views and chatted up an older man with his dog at the tower. I had plenty of time to soak in the long distant views, admire the tower's architecture, then begin a slow meander back on the blue trail I had intended to take up before encountering the elementary students. Heading down the blue trail I eventually heard a hint of them again a good distance down still just making their way up the side of Mt. Carmel. Mountain Laurel's pink and white blossoms added to the forest serenity I had all the way up to the top and now the way down. Soon I came upon the school girls and their leaders.

They were toast...no songs, no loud voices, no bragging, no record setting rabbits out front. They'd been humbled by nature in a way only nature can do. Some of these girls were tough on the outside but this trail had them begging for mercy. A few were arguing with their teachers that it was the white trail they should be taking not the blue trail. They had expected to already be at the top given the effort they already had put in. Their initial fast pace and talking took the wind out of their sails early on and now they had to just suck it up and move along. They were learning many valuable lessons that were literally being taught by their teacher but also in other ways you can only experience by being out on a trail. I didn't have the heart to tell any of them that they weren't as close as they thought they were but that they should listen to their leader and follow the blue trail. Those children were going to get a nice reward and even the tough ones were going to admit they accomplished something to be proud of so I didn't worry too much about their predicament and almost wished I could be their to see their bravado and bragging reemerge as they conquered a tower. I'm sure there were lots of proud smiles, throwing of arms around each other, and a nice sense of accomplishment. But they were at least a half hour from that and their cacophony of low volume "are we there yet" voices soon faded back giving me a serene forest all to myself.

The forest was a thick hardwood canopy, lush and full on the ground, providing shade, beauty, song birds, butterflies, chipmunks, blooming Mountain Laurel, and a peak through to a crystal clear blue sky. Nature just has that way of giving you want you want on a hike even in a place like Sleeping Giant where some days it'll seem as if too many people are going to ruin any chance of what you're there for.

A steep section of downhill blue trail led to the spacious Tower Trail path that eventually spilled back out into the parking lot area. A handful of hikers here and there as I made my way back but nature was the busiest thing about the place. A grand view of some dramatic rocky brown stone cliffs capped off a nice hike before the key unlocked a hot car that had been baking in the sun and brought me back to reality.

A squid or a giant, the park is a nice place to escape to. There are miles of trails to choose from but most will want to hike up to the tower since it's the centerpiece of the park. But you don't have to of course and if you like to take the path least taken then grab a map and plan out a totally different route that will likely keep you from a group of 30 school children - though that in itself can be entertaining and inspiring - and the tower certainly isn't the only spot with scenic views. Sleeping Giant State Park is clean, organized, beautiful, scenic, convenient, peaceful, quiet (but you may have to hike for that quiet), and generally pleasant any time of year. It's one you'll want to check off on your list of hikes... and then perhaps a short car ride to the Long Island Sound for sunset? Sounds like a plan.

Visit the Sleeping Giant website for more information and to download a trail map. There is a small fee per car on weekends and holidays and the following directions should get you there without any trouble at all. Easy place to find since it's literally right across the street from the Quinnipiac College sign.

Directions: From I-91: take Exit 10. Then get onto Route 40 connector and stay on until the end. At the light, take a right onto Route 10N drive 1? miles then take a right onto MT Carmel Avenue. The park entrance is on the left across from Quinnipiac University.

From Wilbur Cross Parkway: take Exit 61. Go north onto Whitney Avenue for 3 miles and take a right onto MT. Carmel Avenue. The park entrance is on the left across from Quinnipiac University.

From I-84 to Cheshire: take Route 70S onto Route 10 south drive 5 miles. Then take a left at the light onto MT. Carmel Avenue. The park entrance is on the left across from Quinnipiac University.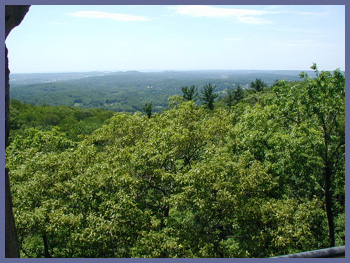 Directions:

200 Mount Carmel Avenue Hamden, CT 06518. (203) 287-5658. From the center of Hamden, CT take Route 272 north and a few miles out of town on your left will be Tobey Hill Road. Drive down Tobey Hill and the parking lot of Sleeping Giant State Park is on your right. Trail head is clearly marked and you just follow the trail straight into the forest.

Printable version of the Sleeping Giant State Park State Park page



If you have any trail updates to share or have feedback/questions please click here to send email or call 203.788.7665