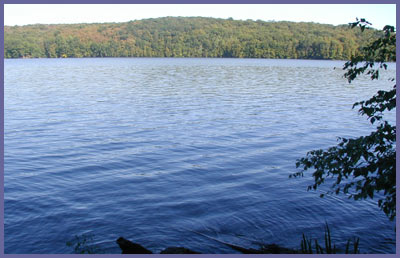 If you live in or around Newtown, Connecticut, Upper Paugussett State Forest has a great 6-mile round trip hike nestled in amongst suburbia and the banks of the Housatonic River. It might surprise you if you were familiar with that part of town that such a trail would exist. As you near the entrance you may have that feeling of wandering down a neighborhood dirt road leading to nowhere or trespassing. But if you just poke in to wade through some back roads and beyond the houses you'll emerge into a little dirt parking lot with no trail head in sight, possibly confusing you even further! But you're okay once you see the Pauggussett State Forest sign and what lies ahead is a surprisingly challenging trail with a nice variety of terrain and highlights that will have you recharged upon returning to your car. You can tackle the whole loop or cut the hike short using trail shortcuts along the loop that lead back to the car. You can just walk down to the river's edge for a short hike or disappear for a few hours. Either way a serene forest and river hike awaits and what it lacks in overviews is made up for with a feeling of disappearing into another world. It should be noted before you head there for a hike that the place is sort of a multi-use destination. It's actively harvested for wood so logging is ongoing. Hunters definitely use this spot during the winter's hunting season and some mountain bikers use the logging road that may intersect cross over a hiking trail or two.
Hiking season is limited by two things: winter hunting and eagles. The state forest seems to be a popular spot for hunters during winter as shotgun cartridges litter parts of the main logging roads that cut through the forest, and for most of the winter the river walk portion of trail is closed to allow bald eagles a chance to nest in their winter spot. Paugussett seems to be a nice blend of accommodating hiker, hunter, and logger. It's a working forest and is micro-managed quite a bit. Which is a good thing in this case otherwise one group or another might overrun the place and ruin it. It's a nice mixture of conservation, recreational use, and natural wonder.
From the car you can hike off in 3 different directions. A wide logging road is obvious and it cuts right through the middle of the forest which partitions the area into "water hike" or "forest hike". If you look back to the left and up into the forest from the parking lot, you'll notice a blue blaze trail. Paugussett is part of the Connecticut Forest and Park Association (http://www.ctwoodlands.org) which maintains the state's blue trail system. This blue blaze trail heads off into the western part and is all forest hiking. If you know you want to hike the entire 6.1 mile loop then starting there is a good choice. However if you're not sure about tackling the whole thing then the best bet is to walk back down the road a few hundred feet and catch the blue trail as it heads left and down into the forest leading you towards Housatonic River bank. Most people should choose this route since it's the quickest way to see the best of the trail and will allow you to plan out a hike that could be very short, medium, or the long 6 mile loop. Be sure to check out the trail map before venturing in so you have an idea of what lies ahead for you. The trail description below follows the trail down to the water first then through the forest.
If you're having trouble finding the blue trail as you walk along the road just note that the old barn at a residence is directly across the street from it. Use the barn as reference to find the trail head. The first blue hash mark is on a tree. You may notice thick blue plastic piping and large metal bins in the woods across the street from the trail. The park allows someone to harvest tree sap which produces maple syrup. It's a conversation issue but also benefits several parties. The person running the system can produce and sell the syrup which in turn produces profits for the park to help maintain itself. It allows scientists to keep an ongoing field test, children/groups to learn about nature, and of course people wind up with some mighty tasty syrup on their pancakes!
Heading down the blue trail towards the river is easy enough. The trail follows along an old stone fence that marks a boundary between park and private property. It meanders down and soon puts you in that classic Southern New England forest canopy. An acoustic wonder in that it just seems to push off modern day noise allowing the hiker to feel the peace and quiet they seek on such hikes. It's a good warm up for the journey to come. Fairly soon you'll see the river and you'll want to note the trail goes to the left (in winter this portion of trail could be closed due to nesting bald eagles so don't ignore the warning if it's posted since it's critical to the eagles' survival and animals like this are so rare in these parts so it's a treat just to have them around and worth the extreme measure to keep them coming back). If you choose to walk up to the water instead of going left with the trail, it's not really officially part of the trail. It's more a hangout for fishermen angling into the Housatonic or possibly the occasional teenagers. LOTS of broken glass unfortunately so it's in your best interest to bypass this area and hang a left on the designated trail. It will reward you with much better river views than the broken bottle spot. Ahead lies the next 3.1 mile of trail.
The trail meanders up and down from this juncture with dense hardwood forest on your left and soft river views on your right. If you look up into the trees at times you may spot an owl, hawk, or even an eagle if you're lucky. It's a perfect perch since they're protected by the forest canopy but have easy access to look out over the river. The old dam system off in the distance helps to create Lakes Lillinonah and Zoar. There are times where the trail rises up high over the river and is quite rocky so pay attention in these sections as it would be possible to slip and tumble over if you weren't hiking with common sense. It's tempting at times to poke in through the trees and stand on spots off trail but doing so creates trail erosion and more importantly possibly a turned ankle or serious fall. So hang loose on the trail as it takes you along the banks of the river and eventually up and away from it into the beautiful hardwood forest highlighted by the tall pine trees that once dominated North America but now relegated to small parcels of land. Towards the end of this river section is a spot to look out over the river well away from any signs of modern life. If not for the occasional boat in warm weather season this spot could easily be a scene from colonial New England. It's a bummer to see river debris "litter bug" mentality since the shores of the Housatonic receive a tremendous amount of man made garbage requiring large scale cleanups throughout the year - mostly volunteer efforts. In spite of the human intrusion it really is a wonderful spot to have a snack or snap off a photo before heading on for the rest of the hike.
As you hike up and away from the water the trail does get steep at times but it's more a gradual climb than a difficult incline. It switches back and forth and there could be side trails to the left but stay with the blue trail and resist the desire to explore other trails since they may take you back to the car before you want to. It's really nice in here. You'll forget you're surrounded by the suburban neighborhoods where Brookfield and Newtown meet. Don't forget to stop in here and be perfectly still. It's about as quiet as you could get in this region and the trees truly are majestic. After a good bit of forest hiking a beautiful old tree with a trail log book suddenly appear ("Letterboxing" is a popular hobby for some. They like to find various sign-in boxes dotted throughout the states forests and trails). It's a cool spot and be sure to read some of the entries as well as jot down your own for fun or if you've seen something that you think other hikers would want to know (animal sighting, tree damage, etc.). At this point you have a choice. You're halfway so you can cut through the middle of the park using the white trail that leads to a logging road which takes you right back to your car. To find the white trail, as it may be tricky for some to see, stand looking at the old tree with the log book, then look right. In that direction you'll pick up the white hash marks on the trees as well as some active logging or remnants of it. Follow the white trail to the logging road intersection and just keep straight back to the car.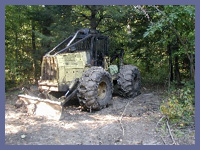 If you're feeling good then you can continue on the blue trail to discover the other half of the forest and eventually make your way right back to where you started. Hiking the rest of the loop is more of the same without the river portion. It's a great hike through there but there aren't any major highlights you'd miss if you're feeling a bit tired and looking to head back to the car. If you do take the white trail shortcut back towards the car stay with it until it comes to a logging road intersection. Go across the logging road intersection staying straight all the way to the car. Don't be alarmed if you come across logging monsters such as this unique machine pictured here!
Whether you are looking for an easy hike, good workout, or just to disappear for awhile Paugussett State Forest in Newtown has what you're looking for. It's not an amazing draw dropping experience but is absolutely worth every step you'd ramble along. It's surprisingly good for a spot so close to suburban homes and a popular river front. And don't under estimate the trail. The entire loop is quite the workout for what it is. You'll sleep well the night following your Paugussett adventure.
NOTE: Parts of this trail can be tricky for first-timers due to old logging roads and such. It's important to stay on trail following trail markers. Map printout from official state website.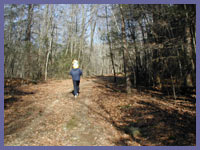 Directions: Getting to Upper Paugussett (remember that there is Lower Paugussett and it's totally different from this one so if you've done your own internet searches don't confuse the two) should be easy since it's right smack in the middle of Newtown and near bordering Brookfield. But the road systems near the forest can be very confusing so the best bet is to use online maps such as Mapquest, Google, or Yahoo and type in "99 Echo Valley Road Newtown, CT". This will give driving directions to the end of Echo Valley Road and parking lot for Paugussett State Forest in Newtown.

Most people will take Interstate 84 to exit 10 in Newtown. At the end of the ramp drive a hundred feet up the road in the opposite direction of all the gas stations and diner and look closely for Walnut Hill Road (easily missed if you're driving too fast). If you're driving WEST on I-84 then it would be left turn at end of exit 10 ramp and almost immediate left onto Walnut Hill. If driving EAST on I-84 then it would be right turn at end of exit 10 then up the road a bit for left turn onto Walnut Hill Road. Follow Walnut Hill Road as it winds up and down and around a curvy road until Alberts Hill Road. Bear to the left and take Alberts Hill Road all the way until it ends at Echo Valley Road and the tiny intersection where Sanford Road also starts. Just take a right onto Echo Valley from Alberts Hill and it will become a narrow dirt road and end at Paugussett State Forest dirt parking lot.
Print out Paugussett State Forest page
If you have any trail updates to share or have feedback/questions please click here to send email or call 203.788.7665