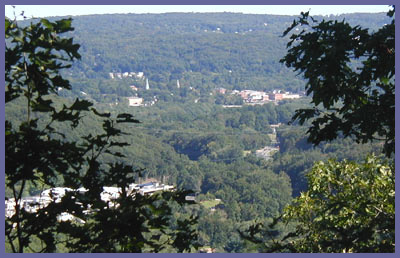 Housatonic Range Trail is a 6.2 mile footpath that starts in Gaylordsville, CT. and ends at the top of Candlewood Mountain in New Milford. It's part of Connecticut's Blue Trail system and is maintained by a dedicated group of volunteers. I hiked the northern section which begins off Route 37 in New Milford and ends at the top of Candlewood Mountain (902 feet). Although I had driven pass the trail head many times throughout the years I never considered hiking there because I assumed that developers probably had bought up the choice woodland property that is so close to Candlewood Lake and Route 7. Suburban neighborhoods, mobile home park, rush hour type traffic, McMansions nearby..."that trail head must be some old thing that people used 15-20 years ago". I was wrong. Housatonic Range Trail is a great hike with some cool spots that will capture anyone's imagination.

When you park 4 feet off busy Route 37 in a spot that looks like you shouldn't be parking there and look around at the houses and bustling atmosphere, you think, "this can't be a good place to hike". And the first few hundred feet of woodland hike won't change that impression. You'll feel like your trespassing through a few backyards because the trail makes it's way pass a few homes before heading out into more tranquil surroundings. But soon you'll find yourself in an environment that offers great views of the valley below, changing landscapes, large rock formations, and dense woodlands. And Housatonic Range is a challenging hike as it just keeps rising, slowly but surely, along the eastern face of Candlewood Mountain and eventually on up to the peak. The first part of the hike makes it's way through pine and hardwood forest, skirting the property of a few homes. It soon spills out into a small field that offers a nice view of the valley below; utility lines run through here and create the field. On the far side of the field you re-enter the woods and begin to distance yourself from the hustle and bustle of Route 37 and 7 traffic. The trail rises quickly and meanders along the side of Candlewood Mountain parallel to Route 7. As you proceed, tall pine trees and majestic hardwoods rise above you and create a nice canopy. Squirrels, chipmunks, and birds of all kinds will keep you company and if you have a keen sense of what's around you, turkey vultures, hawks, deer, and other forms of wildlife can also be seen.
One thing that makes Housatonic Range so interesting are the vast amount of large rock formations. Some of these are huge and all are fascinating. You'll have ample opportunity to scramble around and at one point you can climb up and through a grouping of large rocks. A tunnel of sorts is formed and you'll climb up it using hands and feet, eventually emerging on top of the huge rock formation. It's a nice highlight and adds some fun and excitement to break up the trail experience. It's a very short climb of 10 feet or so but at the top just keep your concentration as a fall here could result in a bad injury. A short distance after the rock climb you'll notice the trail goes left or straight. Go straight, as the left option is actually a by pass around the rock climb for those who choose not too climb through the rocks. (For some, the rock tunnel could be a little claustrophobic or too challenging. This side trail is a nice alternative.)

As you continue on, the trail begins to climb steadily and the terrain is a mixture of forest and rock. Western views of the valley below are plentiful and eventually you'll make your way over to Kelly's Slide. There are 2 options when presented with the sign to Kelly's Slide. Go left to Kelly's Slide or go straight to the top of Candlewood Mountain. You could go left to Kelly's Slide and from there up to the top of Candlewood but if you're feeling a little tired, Kelly's Slide is your best bet. The top of Candlewood Mountain is nice with a peaceful setting, but the views are very obstructed by all the trees (this would be a perfect spot for an observation tower...maybe someday!) The view from Kelly's Slide is fantastic (Housatonic River valley, downtown New Milford, surrounding countryside and mountains) and the giant rock that makes up the slide is quite impressive. Another reason for going down to Kelly's Slide is a small cave spot that was created by the jumble of large rocks. On your way to Kelly's Slide you'll see a side trial with red/orange markings heading down under the rocks. It's a short distance to the cave area and the cave itself didn't appear to be too large...although it could be more extensive than I realize since I didn't explore this region too much. (Use common sense around the cave and Kelly's Slide sections. There are some areas that could be a little dangerous with the possibility of falling a long distance or onto rocks. And if you've got children with you keep a close eye on them. These are fun places to explore and it's easy to loose track of where you are.)

If you take your time and explore this portion of the Housatonic Range Trail you'll see some amazing sites provided by Mother Nature. It's a great place to check out. If you're ready for more after Housatonic Range follow the blue trail signs across Route 37 as you'll walk a short distance along the road and eventually back into the woods. The trail heads north to Gaylordsville. Here you'll discover more rock formations and deep forests. And there's a side trail to Tory's Cave.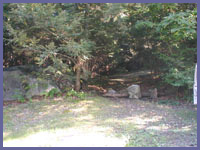 Directions: At the intersection of Routes 7 and 37 just north of New Milford center, take Route 37 as it heads west to New Fairfield. A half mile later you'll see Candlewood Mountain Road on your left. Do not turn onto the road but just pull off the 37 onto the tiny dirt/rock parking area at the intersection of 37 Mountain Road. Look into the woods and the blue trail marker and path will be clearly visible. If you drive pass the mobile home complex, you've gone too far.

Printable version of the Housatonic Range page