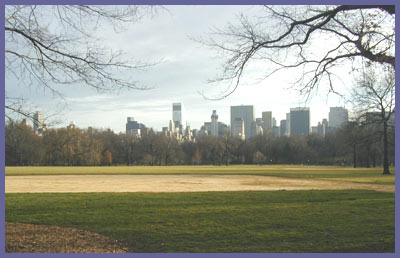 Central Park What can you say about the greatest city in the world...it has everything, including great hikes! One would never think of hiking in NYC but Central Park has some great trails and a surprising number of serene and out of the way places. The park is world famous with note-worthy landmarks, but not many people realize the amount of side trails that can take you to areas that don't see a lot of traffic. It's really not hard to find quiet spots, ponds, streams, waterfalls, rock scrambles, and all the things that hikers hope to find when they venture out. There are endless possibilities and they are best investigated at http://www.centralparknyc.org. However, presented here is a great loop to follow. But again, for accurate up to date info and maps, it's a good idea to check out the park's official website.

BerkshireHiking.com is suggesting a great hike that will take you along Naturalist's Walk, to The Lake, up Belvedere Tower, and over the Great Lawn. This loop starts and ends at the Metropolitan Museum of Art located at 1000 Fifth Avenue at 82nd Street. (Visit the museum's website by clicking here.)

Once you've gotten yourself to the Metropolitan Museum of Art, walk to the back of the museum. Begin your hike behind The Met Museum of Art. Head south, or "go left" if that's easier to remember. As you head down any of the available walkways, watch for signs pointing you towards The Boathouse and/or The Lake. Eventually you'll come upon The Boathouse with a large body of water. Go past The Boathouse and walk along the water and you'll eventually walk into Bethesda Terrace with its Angel of the Waters Fountain in the middle. (This region is world famous and many of you will recognize most things as they have appeared on TV and in the movies thousands of times.) Walk through Bethesda Terrace area and as you leave it bear right and proceed along the trail to Bow Bridge which spans the Boathouse water area and The Lake.

(For those of you with a good sense of direction and looking for a longer hike, bear left out of the Bethesda Terrace and up to 72nd Street. Take a right and follow 72nd Street over to Strawberry Fields on the other side of The Lake to see the touching memorial to John Lennon. It's truly a peaceful place and hard not to be effected by it one way or another. Then just walk along the shoreline of The Lake and eventually meet up with our suggested hike near the Belvedere Tower area.)

For those of you bearing right out of Bethesda Terrace region and following our hike, you can pass over the Bow Bridge and keep on the path as it follows the shoreline of The Lake. Soon you will enter a region that is quite remote (for Manhattan) and filled with side trails, winding up and down rolling woodlands. You can stay straight and follow the path up to Belvedere Tower or investigate one of these side trails where you are sure to find a nice spot to rest or have a snack (see NOTE in bold letters below for some helpful safety tips).

Keep on the trail and head up the hill and over to Belvedere Tower which is the gray stone castle perched on a hill. Belvedere Tower offers great views of the park and if you're there on a day when the tower is open to visitors go inside and check it out along with the spectacular view from its peak (this is where all the local news programs get their weather report for downtown Manhattan). After visiting the Belvedere Tower, head down the hill and past Delacorte Theater where many Shakespearean plays are performed in the outdoor amphitheater. Bear right after the theater buildings and head over to the Great Lawn with it's large grassy expanse. At any point along the lawn you can take a right and head back to The Met Museum of Art where your hike began.

(NOTE: This is New York City and safety is always an issue even if you feel like you're out in the woods somewhere and nobody is around. The city has done an unbelievable job of cleaning the park physically, as well as from its criminal element. But in the remote parts that you may choose to explore on your own, you need to use common sense, especially if you are a women hiking alone. Never venture off at night alone into remote parts of the park (although it's so safe now you probably could walk through here every night for the next 50 years and never be bothered). I feel an obligation to raise safety concerns but certainly don't want to dissuade you from experiencing a great hike. Central Park has once again regained its regal status. It's no longer a haven for drug dealers, muggers, petty criminals, and party animals. It's strictly family entertainment now and a favorite destination for international tourists and working people of the city. The park is incredibly safe but just use common sense anyway for extra measure...and if you are a women hiking alone, hike during the middle of the day and stay in areas where there are other people.
I certainly don't want to bum you out with safety concerns or scare you off from Central Park. I just want you to think and plan a little before venturing off. Central Park is awesome on a beautiful clear day...anytime of the year. There's so much going on and so many things to experience. It's wonderful place to people watch, bring children to play, paint, explore, read a book, picnic, walk, jog, take a horse-and-buggy ride, watch street performers, eat, or just relax. You can't help but feel your finger is on the pulse of the world. You're in the best part of the greatest city in the world!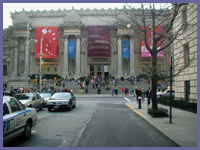 Directions:

Directions: Go to the The Metropolitan Museum of Art at 1000 Fifth Avenue at 82nd Street. (If you're unfamiliar with how to get there it is best to go to the following link. Directions to The Metropolitan Museum of Art. There is a parking garage at The Met as well as dozens of others very close by.) Once you've arrived at The Met go around to the back and you'll see Central Park. Stop by the official website and inquire about taking a guided tour or seeing a play or concert.
http://www.centralparknyc.org

Printable version of the Central Park page



If you have any trail updates to share or have feedback/questions please click here to send email or call 203.788.7665