Five Best Leaf Peeping Trails in Berkshire County
For a few short months of every year the hillsides are set ablaze. That is to say the leaves change. The maples turn crimson, the ashes violet, the aspens gold, the birches tawny, and the beeches bronze. Simply put, it's quintessential New England.
For seasoned leaf peepers there's nothing quite like it. When the days grow short, the corn tall, the nights cool, and the apple cider hot, scores of them take to main streets setting up easels, donning woolen hats, and snapping picture after picture of the sublime spectral spectacle that is autumn. And while sidewalks and park benches undoubtedly offer up a marvelous show, the view from a quartzite perch alongside migrating raptors and marshmallow clouds is of another caliber altogether. Climb the mountains and see the seas of fire underfoot, the fields of rose colored blueberries undertoe, the dwarfed old growth pitch pines and bedrock cliffsides. What follows are five of the best leaf peeping spots in Berkshire County, two reside in south county, one in central, and two more in the north.
5) The Appalachian Trail (Undermountain Pass to Jug End)- South County
You can't go wrong with this 15-mile stretch of the Appalachian Trail. Starting in Salisbury CT at Undermountain Pass (http://www.berkshirehiking.com/hikes/undermountain.html) and ending in Egremont, MA at Jug End Road/Guilder Hollow Road—highlights include an immense stone pyramid atop the highest point in CT known as the Bear Mountain cairn, a verdant state splitting stream called Sage's Ravine, a half mile of nonstop views along the bedrock ridgeline of Mount Race, more vistas atop Mount Everett, the high elevation Guilder Pond, and several view windows scattered across Jug End.

If you've the legs and the time then I suggest making a go at the whole thing. It takes the average hiker between 8-10 hours so bring plenty of water, lunch, a few snacks, and proper attire. If you have to parse it out I'd highly suggest the Mount Race piece. Access trails along the way include Undermountain Trail, Mount Frissel Trail, Race Brook Trail, Mount Everett Road, and Elbow Trail.
(Go)
4) Monument Mountain- South County
This mountain, steeped in history and fabled in romantic lore, is a hot spot for hikers. Owned and maintained by the Trustees of the Reservation, its bedrock ridgeline and family friendly atmosphere make it busy on weekends and downright mobbed on holidays. This makes it a great place to meet like-minded hikers so expect to share in the wonder but also in the parking. From the top views north to Mount Greylock, south to the Litchfield Hills, West to the Catskills, and East over Beartown make this one of the best leaf peeping platforms in southern Berkshire County.
(Go)
3) Mahanna Cobble- Central County
This little known wonder is a new addition to the Berkshire Natural Resources Council lineup. A short and rewarding experience with plenty of grandeur its location in central county simply can't be beat. The views north from the summit of Bousquet Ski Resort, and south from the vista atop Lenox Mountain, substantiate the value of conserving ridgeline for public enjoyment. Sure to become one of the Berkshire's most used and highly valued recreational venues, Mahanna Cobble makes the list as one of the best peeping spots in central Berkshire County.
(Go)
2) Hoosac Range- North County
Another recent addition to Berkshire Natural Resources Council lineup, the Hoosac Range, located off RT-2 in North Adams, negotiates rolling ridgeline and finishes with a spectacular view from Spruce Hill. The six mile round trip can prove a challenge so if you're looking for something quick and easy try the two mile round trip climb to sunset rock. If you're in for a serious hike/overnight excursion consider continuing to Savoy Mountain State Forest which hooks up at the end. Views north into Green Mountain National Forest, west to the Taconics, south all the way to Washington, and east over forested hills devoid of manmade developments, means the Hoosac Range is sure to fill your eyes with the colors of Berkshire County at its best. Don't miss the free guided hikes brought to you by Berkshire Natural Resources Council
BNRC Events, (Go)
1) Mount Greylock- North County
Greylock is king! Rising higher than any other point in Massachusetts it boasts the only sub-alpine plant community in southern New England. Ecologists often describe it as an island for that reason, citing the old growth spruce-fir forest, spring wildflowers blooming in summer, and nearly 100 different species of bird. Sure to become a favorite for those who haven't made her summit, on an especially clear day you can see all the way to Boston. The state maintains a visitor's center, a restaurant/lodge, and viewing tower. Fall goers rejoice, her eminence is open for peeping!
(Go)
(Elia Del Molino - October, 2012)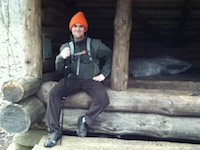 Location

Berkshire County, MA. Route 7 in Connecticut runs north-south right the heart of Berkshire County and can be used to find you way to all these unique spots. Route 22 in New York parallels Route 7 north-south just to the west of Berkshire Mountains. Route 7 goes from Long Island Sound to Canada. Route 22 goes from metro NYC to Canada. If you have any trail updates to share or have feedback/questions please click here to send email.