(Use this page to print out the hike. Click the back button to go back to the webpage - www.berkshirehiking.com)
Mt. Alander - Climbing the trail to the top of Mt. Alander for the first time on a clear day is an experience you'll never forget. Awesome is a word used too often in today's society when people are describing things that are "fun" or "exciting". The views from Mt. Alander are awesome in the true sense of the word! There may be other mountains in the Berkshires with similar views, but none could exceed Alander for sheer viewing pleasure. If you are like me and hike to get a good workout rewarded with spectacular views, then you have to hike Mt. Alander. You can easily see a hundred miles in each direction if you hike on a clear day. There are many ways to summit the Mt. Alander and I recently took the Alander Loop trail with my brother who got me started hiking as a little boy over 25 years ago. The both of us were completely taken off guard by the views that unfolded before us. We had never known of the trail system at Alander...I had climbed nearby Mt. Everett and explored Mt. Riga and Mt. Washington State Reservations.

The hike from the dirt parking lot to the summit is 2.5 miles and it's pretty much straight up all the way so you have to be in decent shape to attempt it. Though never trecherous or severe in its slope, the trail rises through the forest in a manner that doesn't offer many flat sections. It can also be quite rocky as you near the summit. If you haven't been hiking in a while or are not in the greatest shape, you'll need to take it slow and rest a few times. But patience and persistence will pay off...I guarantee it. If you aren't thrilled with the views from atop Mt. Alander, there's no hope for you! From Alander you can see Mt. Greylock due north, Albany (80 miles away) north west, Mt. Everett east, and the Catskills west. The valleys below offer endless sites; farmland, forest, ponds, lakes, etc. The top of the mountain is a hikers playground. You can stretch out on some soft grass and watch the world go by, take a nap as the sun warms you up, stand on a number of rock "podiums" and strike the classic hiker pose as you look out over the valley below, follow the flight of a chicken hawk, or pick some wild berries. My brother and I ran into a married couple from Switzerland who had come out to this region to pick wild mushrooms to help them create special soups and sauces. They assured me that the Swiss Alps are absolutely spectacular but that Mt. Alander is a real sight to behold no matter what you compare it to. They spoke of the variety of landscape in the Taconic Plateau that can't be seen in the Alps. We also met another married couple who are spending their retirement years hiking the Appalachian Trail. They also pointed out that the Mt. Alander section of the AT is as good as any you'll see on the trail. The Nature Conservancy has listed the Taconic Plateau region where Connecticut, Massachusetts, and New York meet as one of the last great places on earth. Hike Mt. Alander and you'll see why.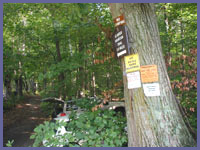 Directions: For those coming from NYC or southern Connecticut take 84 west to the 684/Rt. 22 exit in Brewster. Take Rt. 22 north all the way to Millerton, NY (about 55 miles) Stay on Rt. 22 north as it heads up into Columbia County and the approaches town of Copake, NY. A few miles after crossing over Columbia County line (but before Copake) you'll pass some beautiful farmland on your right hand side. You'll see a golf course in the "Boston Corner" region of this area. A short distance later Under Mountain Road will be a right hand turn that you need to take. Not quite a mile (0.8 to be exact) down Under Mountain Road on your left hand side will be a dirt parking lot that is very small and easily missed if you are driving to fast. The dirt parking lot cutout is just after a cornfield following a long stretch of road. A large tree has signs posted signaling the trailhead.
If you're coming from the north (New York State or Massachusetts) find your way to Route 22 and the town of Copake. Head south on Route 22 from Copake and Under Mountian Road will be on the left.
You can also go to Mapquest.com and type in 1 Under Mountain Road, Copake, NY. for custom directions on how to get to Under Mountain Road. There are other options as far as hiking up Mt. Alander. One way is to start at Bash Bish Falls State Park and follow the South Taconic Trail until it meets Alander Trail. Another way would be to start at Mt. Washington State Forest and hike in from there (http://www.mass.gov/dem/parks/mwas.htm). There's a large trail map at the trailhead that shows you the way. The two alternatives are longer, harder hikes so just keep that in mind if you decide to go these routes.
© Berkshire Hiking 2006