(Use this page to print out the hike. Click the back button to go back to the webpage - www.berkshirehiking.com)
Mine Hill located in Roxbury near the Shepaug River is a nice place and is part of the Roxbury Land Trust as well as a national historic landmark. Mine Hill at one time was a fully functioning iron mine and it's not hard to see history in action as you hike along well-maintained trail system. The trail system presents varying degrees of difficulties. You can park your car and take a short walk right up to the old giant furnaces and structures and explore this fascinating part of the Mine Hill. Or venture out on the challenging 4-mile round trip blue trail, which loops around the Mine Hill preserve. Along way the blue trail takes you through dense woodlands, up rocky terrain, over an old mule trail, traverses a small marble bridge, takes you past mine tunnels with cave like structures, along a long dirt utility road that abuts farmland, and back to the old furnaces and historical part of Mine Hill. There's also a nice short nature trail off the blue trail that isn't too far from the main entrance area (go left at the start of the blue trial). The trail gives a hiker all the natural beauty you'd want along with an historic journey to the past. Mine Hill is a fascinating place.
This is a great place to bring kids as they are sure to be fascinated by the giant furnaces and some of the cave like structures. But because of all the mining activity that took place here years ago, there are some potentially dangerous spots. The Land Trust has done a great job of blocking off nearly all tunnels entrances and preventing people from venturing into places that are extremely dangerous to explore. You'll notice steel gated covers over quite a few of the tunnels entrances. On one hand it's a shame these gates exist because it's hard to see the cave like structures. On the other hand, it obviously makes sense to do this for safety reasons and doing this has saved numerous lives. If you're in good shape and you take on the 4 mile loop, you'll see some great scenery and find some uniques treasures along the way.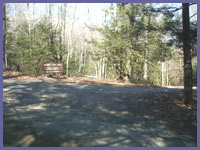 Directions: Take exit 14 off I-84 and at end of ramp take a left. Go up to the intersection and go straight at the intersection. This is Rt. 172. Stay on 172 until it meets Rt. 67. Take a left onto Rt. 67 and follow it to Roxbury center (67 seems to end here but just take a left and then quickly bear to the right as 67 passes through Roxbury). 2.5 miles out of Roxbury center is River Rd. Take a right onto River Rd. and one-tenth of a mile up this dirt road is the entrance to Mine Hill.

© Berkshire Hiking 2004