(Use this page to print out the hike. Click the back button to go back to the webpage - www.berkshirehiking.com)
Lilly Preserve in Roxbury was donated as a place to commune with nature. Its sole purpose is to encourage people to get out and experience nature, uninterrupted by humankind. And it does indeed serve a good purpose. This is a great trail for those looking to start hiking or exercising again. Though the trail system at Lilly isn't very extensive, it is very nice. It's a peaceful place for hiking and/or bird watching. The preserve is right off Route 317 and is easily accessed. The trail meanders through interesting woodlands and near a wetlands area that usually produces a lot of bird activity.
This is a tranquil hike with relatively flat terrain that loops around to meet route Route 317 again just a few hundred feet up the road from your car at the main trail entrance. You'll start your hike by stepping in some thick brush right off the main road and immediately you'll begin to feel like you've entered another world. This is classic Connecticut woodlands with views of the wetlands through the trees. Look up at the spectacular trees and stop along the way to listen to the birds sing their song and bounce around from branch to branch. The main section of the trail loops to the left as you proceed (there is a section of trail going off to the right into the woods about ¼ mile into the hike and towards open farmland). Eventually you can take a short side trail to a memorial plaque with a nice footbridge over a cascading stream. The memorial is in memory of Thomas Robert Lilly who donated 128 acres in 1975. It's a nice, peaceful scene here and he would be very happy to know that this bit of land is still going strong and serving the purpose that he intended. Take a short walk over to the small parking area with the posted signs while you're here. Read about the Highland steer and then make your way back onto the main trail and head down to where the Highland graze and get a close-up look at these unique animals.
The trail ends at 317 and you should see your car a few hundred feet down the road. Walk along the grass to your car as this road is a main road and traffic really breezes along here. All in all this is a straightforward hike. It's easy to do the whole loop and if you want additional hiking there are side trails. Unfortunately these side trails are not hiked often and as a result the side trails are not easily clear so be careful if you venture off. Just pay attention to the trail or you could be standing in the middle of the woods going "where am I."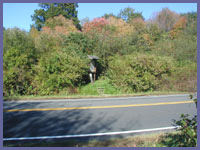 Directions: To get to Lilly Preserve it's best to take the Southbury exit off I-84 and head on Route 6 (east) towards Woodbury. Go all the way to the center of Woodbury to the intersection of Rt. 317 and Rt 6. Take a left onto 317. (The Woodbury Library is on your right at this intersectionl..before you take the left turn onto 317) 4.5 miles later you'll come to Lilly Preserve with roadside parking on the grass (there is no parking lot here). If you're familiar with the area and coming from Brookfield/New Milford region take Route 67 to Roxbury center. Rt. 67 meets Rt. 317 (also called Good Hill Rd.). Take 317 (Good Hill Rd.) east for 1.5 miles and Lilly Preserve is on your left hand side. The trailhead on the left side of the road is a little tricky to see.

© Berkshire Hiking 2004