(Use this page to print out the hike. Click the back button to go back to the webpage - www.berkshirehiking.com)
Hidden Valley located in New Fairfield, CT is a small place and not generally know about. A good place for toddlers because of its size and clearly marked signs and viewing stations. Though right in the heart of town and surrounded on three sides by crowded neighborhoods, the park is a neat little place to explore and experience hidden treasures. It's most appropriate for families or those with physical limitations (The avid hiker could do the entire trail system in about 15 minutes). It's a nice place to pull off the side of the road and relax at the pound or just get out for a quick walk. The main attraction here would be the large pond/bog area where a platform has been built to allow for easy viewing of this unique ecosystem. The pond is teeming with life; insects, birds, and fish inhabit the pond and if you have patience to just sit back and enjoy, the sights and sounds are certainly unique. The trail system is clearly marked and educational as the local Boy Scouts and and nearby school have made this place a outdoor laboratory for school children and the general public. As you walk through the forest you'll learn about the environment around you. Because of its convenience, Hidden Valley is accessible to those who normally wouldn't be able to enjoy nature because of certain limitations in their mobility.

If you're a serious hiker, there really isn't a lot to Hidden Valley as it's very small in terms of space and the scenery is nice but not spectacular. But if you happen to be in the area or just like to check out all types of places, it's worth a visit. You can pull into the dirt lot and within a minute be at the pond or making your way out onto the small trail system. During the fall foliage season Hidden Valley is a perfect photo-op for camera enthusiasts. From a physical standpoint, this hike is by far the easiest one to tackle listed on this web site!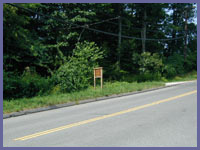 Directions: Take Interstate 84 into Danbury, CT. and take exit 6. At the end of the ramp follow the signs that will direct you to Rt. 37 north and take 37 as it heads out of Danbury towards New Fairfield. Take Rt. 37 all the way to New Fairfield center. When you reach the center you'll have small shopping centers on either side. Rt. 37 and Rt. 39 intersect here. Take a left onto Rt. 39. You'll go up a small hill and Rt. 39 begins to bear left slowly. Soon you will come to a stop sign with an intersection that can be a bit confusing if you're not from the area. Go straight at this stop sign intersection so that the Catholic church goes by on your left-hand side. A few yards past the church on your right is Gilotti Rd. Take a right onto Gilloti. Three-tenths of a mile (0.3) up Gilotti Rd. is Meeting House Hill Elementary School. Go past the school and a few hundred feet on your right is the entrance to Hidden Valley. Pull into the dirt parking area and you'll immediately see the information center.

© Berkshire Hiking 2004